I am delighted to be writing yet again to welcome you to the 2010 Old Northavian Newsletter. It has proved harder to extract news from you all this year so I'm sorry to say that we are presenting a somewhat shorter document to you than previously. I know, from the emails that I have received after the publication of earlier Newsletters, that very many of you have read and enjoyed our past compilations of news. Our publication date this year is also a bit later than we had hoped. Blame the Icelandic volcano!
Committee thanks: As usual, I must express my thanks to the members of the ONA Committee who give up so much of their own time, attending meetings and organising reunion events. Again, I must thank Holly Wills (née Soffe) for her tireless efforts as Editor in putting together this year's Newsletter. And my sincere thanks, also, to Sam Hollas who is already limbering up to organise this year's Reunion event for those who attended Northaw / Norman Court during the 1990s. Details of this will follow soon.
Committee membership: there are changes afoot in the ONA Committee! Two ONs have recently joined the team – Natasha Sanguinetti (1989-93) and Graham Brady (1991-94). Natasha has kindly agreed to take on the role of Hon Secretary, in succession to Bryan Gordon-Smith who has held the post (apart from his one year as Chairman in 2006-07) since the regeneration of the ONA. We all owe him an enormous debt of gratitude for all that he has done for the Association since 2003. Happily, he has agreed to remain as a member of the Committee. We haven't found a role for Graham yet, but we will…..
Chairmanship: I have been Chairman of your Association now since 2003 (apart from the year when Bryan took over) and I am approaching the time when I must retire from the post (with some sadness). As a Committee, we have been looking around for someone to take over from me, so far without success. As I took on the role when summoned by Kevin Foyle in 2003 with no predecessor to look to for advice, there is no reason why the job should not be taken on by someone who has not previously been a Committee member. If there is any Old Northavian out there who would like to take up the challenge, and become the next Chairman, please get in touch: anthony@oldnorthavianassociation.co.uk
Membership: at the risk of making a nuisance of myself, please may I remind you all, yet again, to register yourselves on the Registration page of the website. It takes no time at all to fill in the relevant boxes and then your friends and contemporaries can keep in touch with you. Please check first, on the List of Members page, that you are not already registered – if you can view the details of other members, then you need do no more. I believe there is now an Old Northavian group on Facebook but don't ask me how to access it. Those of you who understand such things should be able to find it!
with best wishes
Anthony Whitaker
Dear ONs
It was good to welcome back many Old Northavians from the 1980s last September. They were keen to come back, 'walk the course' and, of course, enjoy each other's company over a fine buffet lunch.
I am always keen to answer their questions and hear what they have to say about life here at Northaw (as it was then) twenty (or thirty) years ago. However, there were two questions to which I was not able to give any sort of satisfactory answer, namely what has happened to The Dell and to the Wooden Horse.
The few members of staff who were here twenty and more years ago have also sadly been unable to help me in the cause. Reflecting on this some weeks after the matter was raised at the recent ON Committee meeting, the memories of the superb school grounds clearly resonate very strongly with all those who were at school here in whatever era.
However, I can comment on the way in which we have developed the school grounds in a very purposeful fashion over the last 18 months. In September 2008, Norman Court was one of a handful of schools across the country designated as a pilot school for the ACE programme. It is a programme of study designed to develop pupils' education and understanding of the world beyond the classroom.
Recognised nationally within the independent school sector, the ACE framework follows similar themes to the Duke of Edinburgh's award Scheme: these are Environmental Activities, Outdoor Adventure, Community Service and Personal Development. We offer a range of activities linked to these themes, and much of our Saturday timetable is devoted to the ACE programme. The children have record cards and are assessed at each stage, gaining a pass, merit or distinction depending on their level of involvement and achievement.
In addition to consolidating the Forest Schools' practise which our Pre-Prep department enjoys, the children have a lot of fun with the ACE programme. Some of the more eye-catching exercises have been the bird watching going on by the Junior Department pupils, the building of a wattle and daub home for the pigs, the rookie lifeguard experience of some senior pupils and finally the year 7 camp and orienteering exercise – taking blindfolded groups of children some five miles away from the school in the middle of the countryside and leaving them with a compass and a map was a fine exercise. They all returned to school safely within 2½ hours!
We are pleased with the way that the ACE programme is embedded into our Saturday morning programme. However, it is also good to report that the current crop of pupils are enjoying the grounds for purely recreational purposes every bit as much as Northavians from the past. Long may this continue to be the case.
Paddy Savage
April 1974. Eight Northavians travel around Italy and Greece in a battered old car with their Classics teacher and his wife. The trip lasts for just over a fortnight, and is indelibly stamped on the memories of all who undertake it.

April 2009. All bar one of those ONs and the Classics teacher's wife reassemble less than a mile from Northaw for lunch and a trip down memory lane.

It was one of those off the cuff ideas that just takes flight. James Woodall (1969-74) and I had been discussing Northaw reunions and the unforgettable journey we had made with Stephen Plaister and his wife Nancy all those years ago. He revealed he had recently visited a Greek theatre in Sicily which had prompted memories of our trip to Greece and Italy. I suggested it might be fun to get everyone together again. Before we knew it we were off, a-sleuthing and a-googling, tracking down former classmates, most of whom we hadn't seen in the intervening 35 years.

Several weeks later we had located the entire crew. Now came the interesting bit: would our entreaties be met with stony silence, or perhaps an 'I don't do reunions, thank you' (and yes I have had those in the past, since you ask)? Not a bit of it! Back came the replies, expressing delight at the idea. All, in fact, bar one.

And so it was that seven middle aged men, and one ageless octogenarian, gathered at Walnut Tree House in West Tytherley, one balmy spring day. The venue is significant: it was Stephen's house for fifty years, before it became mine. They came from far and wide. James Woodall and Hugo Mallet (1970-75) from Germany (Berlin and Hamburg respectively), Piers Lea (1969-74) and James Althaus (1970-75) from London, William Casement (1969-74) from Kent, Ben Money-Coutts (1969-74) from, well, Hampshire actually. But you get the point. All had taken time out from busy lives to travel and reminisce about a time that clearly still meant a lot to them. And of course, there was Stephen himself as guest of honour. His presence leant the day a sense of legitimacy that might otherwise have been missing. His memory and wit were as sharp as ever.

It was obvious right from the off that it was going to be one of those days. To borrow a jazz phrase, it just swung. Everyone was genuinely pleased to see each other again and the memories and the wine flowed in abundance. To mark the occasion, my wife Maria Ines and I had concocted a Greek main dish (Moussaka) followed by Italian dessert (Tiramisu). Both, to our relief, were given the Plaister seal of approval. All had brought the requisite wine, and there was even some Retsina daringly brought by James W, who confidently assured us that 'it's a lot better than people think'. He wasn't wrong either.

We were blessed by the weather. Indeed, looking back I think it was probably one of the warmest days of the entire year. We were able to spend much time in the sunshine outside. While there the ingenuity of the ON was put to the test: how to take a photograph with all of us in it. I am happy to report that the collective ON brain did not let us down. Ben's camera was found to have a self-timer. The camera was duly perched on the garden table, we all gathered in time-honoured sports team-style pose, Hugo pressed the button and then scrambled back into position just in time before the shutter clicked. The resulting photograph appears below.

In another tribute to the impact the trip had on us, I think everyone had managed to dig out at least one artifact, be it a log book or a photograph album (Casement's, a frighteningly well-organised affair). Stephen was visibly touched.

Lunch melted into a leisurely stroll down the lane to school where, as if in homage to the trip itself, we managed to lose Stephen and James W. To illustrate what I mean, I leave the final word to Stephen, who wrote me this some time later: 'Nancy and I took three parties: in 1972, '74 and '79. The latter was the only trip out of the three when we did not lose the most important suitcase, containing nearly all Nancy's clothes. In 1972, the suitcase fell off the roof somewhere in the mountains. It contained all our return tickets, but luckily not the passports; in 1974, we had hardly any time to reach Rome station for the boat train to Brindisi, and taxis were infrequent. Nancy boarded the first taxi, in which there was not room for the vital suitcase, so that was left in my charge. When a second taxi arrived, we piled in breathlessly and I left Nancy's case behind, so that she arrived in Greece with only the clothes she stood up in and a small overnight case!! I sometimes wake up in the night and think "How could I have been so stupid?"'. Stephen, we wouldn't have wanted it any other way.

Oh, and the missing mystery man? Andrew Clough (1970-75). Andrew, if we ever decide to do it again, the drinks are on you.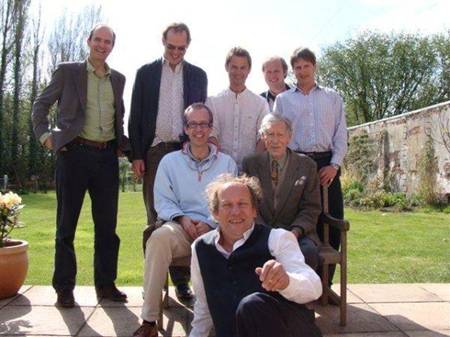 L to R: Piers Lea, James Althaus, Charlie Thomas, James Woodall, William Casement
Ben Money-Coutts, Stephen Plaister
Hugo Mallet
Allen BYRD (1945-50) Richard Faber (1951-53) reports that Allen has moved to a smaller house in Cheltenham partly because he spends a large amount of time in Germany. Allen is a seasoned solo traveller. He prefers travelling independently rather than being part of guided package tours. In 2008 he toured the three Baltic States, the capitals of which are all World Heritage Sites, a status which Allen says is fully justified. In 2009 he visited Greece and Turkey. He was particularly interested in seeing Knossos and World War II sites in Crete. In Turkey after leaving Istanbul he visited Scutari Barracks where Florence Nightingale set up her hospital. His next planned trip is to Bratislava in Slovakia.
Ian STEWART-HARGREAVES (1945-51) In May and June, I spent six weeks cycling a part of the pilgrim route to Santiago de Compostela that I had not seen before. This took me through the forests of Les Landes and over the Pyrenees, via the Tunnel of St Adrian. The highlight of the trip was a visit to the old hermit site at San Millán de Cogolla. This became a Mozarabic monastery and has the most amazing examples of pilgrims' graffito. The journey was about 400 miles, which was a stately procession from restaurant, to church, to monastery, ending up in Burgos. My present concern is a forthcoming trip to the Mainland; Glasgow, even. They are holding a Christmas Fair and I am taking a ridiculous amount of silver hoping to shake loose the siller from their pokes - (silver from their purses, to you.)

Richard FABER (1951-53) It is now 5 years since I retired as Consultant Surgeon at the Royal Berkshire Hospital. Before I retired I was told that the worst thing about retirement for any professional or businessman of my age was the loss of a secretary. We had become so dependant upon them that we were useless without them. This will not of course apply to younger generations coming through. My hospital secretary was not only superbly organised but also a computer whizz. She taught me the rudiments of word processing, internet and email but I knew that without more knowledge I wouldn't be able to do enough on my own.
Therefore the first thing I did on retirement was to go on an IT course at an offshoot of Newbury College. At that time, the Government had set up these courses, which were free, in an attempt to encourage the country to become computer literate. I did all eight City & Guilds Level 1 courses and three Level 2 courses. The courses at Newbury College were very well run and the exams at the end were not difficult; I wouldn't have got Distinctions across the board otherwise! Then Tony Blair pulled the plug, presumably to use the money elsewhere. They have proved invaluable and I don't know how anybody in this day and age can cope without computer and internet skills. Although I had been driving up to 30,000 miles a year I realised that after 50 years I must have developed many bad habits. There had been, and still is, talk about making people retake their driving licence at 65 or 70. I thought that I would pre-empt this and do the Institute of Advanced Motorists course. I went on drives with an "Observer" from the Newbury Group of the IAM. She was young enough to be my daughter, very kind and tolerant but firm. She very tactfully pointed out all the bad habits I had acquired and gradually ironed them out. When she was happy I was signed up to take the IAM test with an Examiner, a serving police driver. This took about 3 hours, with chats before and after the drive on a variety of roads. A month before the local papers had been full of the story of a 93 year old gentleman who had passed the test which made it more stressful for me aged then a mere 67! Fortunately, I passed.
Richard GOSNELL (1951-54) If any ONs are passing Wootton Bassett, I have made a display of the Fossils and Geology of Wootton Bassett, which can be viewed in the Public Library. May I also re-iterate a 'hint' I sent earlier. My old public school, Malvern College, arranges a 7-mile walk every two years, for old boys to trace the hallowed route of the School's Ledder Run, being a cross-country steeplechase on foot for the present pupils to undertake, between Ledbury and the College grounds. What about a walk for Old Northavians, to end with tea or a buffet at Northaw? Maybe you don't have an annual run to retrace, but any nice ramble or hike would appeal to us, and, I am sure, to other ONs who may still have some life in their legs. A 5-mile circular walk perhaps? I would happily reconnoitre a suitable route.

Jeremy CRIPPS (1951-56) There is a quiet revolution going on out here in Kuwait. This year we have seen the rights of Kuwaiti men to hold their wives' passports taken away by the Constitutional Court. Then the Court also ruled that the female Members of Parliament did not have to wear the hijab to Parliament because they had personal freedom guaranteed under the constitution. More recently the Cabinet faced questions and decided to take them from Members of Parliament - the process is called a grilling by interpellation. Traditionally the Cabinet members refused, as a matter of face, to be interpolated and this often led to the government falling. This time a precedent was set, the interpellation took place, the Cabinet did a great job and the troublemakers in Parliament were isolated - really an extraordinary change which indicates that a revolution is underway. At the American University we are part of this revolution as Kuwait is returning to its leadership role in the Gulf which was to some extent abandoned after the two Gulf wars. This is quite exciting and we see continuous improvement in living conditions and steady growth as this country was not badly hurt by the financial crisis and is now leading the return to positive growth.

Nigel WILLIAMSON (1955-61) Little news this year – now working for the National Trust. Best wishes for 2010 to all who were at Northaw in the 'middle fifties'.
Tony THOMSON (1956-61) I am looking forward to becoming a grandparent for the second time in the New Year. I have retired from my two main careers at the London Stock Exchange and then PA Consulting Group but still do some consulting in Financial IT as and when the opportunities arise. After an interval of about 50 years I am now a regular member of three choirs in my area. I was head chorister for a short time at Northaw and it took me a little while to get around to doing much singing again! I rarely see any other Old Northavians myself, but hear regular reports about them from my father, Tommy Thomson who is still living down in Niton on the Isle of Wight. I travel down to see him every couple of weeks or so and he is always telling me about the old boys and masters he hears from. He is always delighted to find out what they are doing and I am very touched and impressed by the efforts that they make to stay in contact with him and tell him how they are getting on in their lives after Northaw where he was Deputy Head so many years ago.
Angus MACCONOCHIE (1959-61) All well in lovely New Zealand, the land of the Long White Cloud. It's summer here so I am getting back to my daily swims (the sea is warm) and outdoor BBQs. I'll be in Wellington for Christmas then onto a wine area called Martinborough for a week. NZ has faired quite well during the so-called recession; I think our location helps. Just a reminder to anyone coming to NZ to contact me so I can help out with any travel plans etc. Always enjoy the Northaw news and hopefully one day will get to return to a very special place! I wish new challenges in 2010 to all.

Christopher JOLL (1957-62) 2009 has been a very curious year. In between keeping growth going in my real estate public relations business, which seems to have been a case of "one pace forward, one pace back", I have been in touch with several contemporaries including Mike SCOTT (1957-62), Martin TAYLOR (1957-61) and Patrick O'NEILL (1956-62) – although I have yet to meet up with the latter. Time is a curious thing because I found that, after ten minutes to clear away the debris of five decades, Mike and Martin were really very little different to their pre-teen selves. I wonder if they thought the same? In many ways I hope not! Meanwhile, and wearing my alternative hat as a military event writer, director & producer, I have been very busy putting together a replacement for the old Royal Tournament to be staged at Earls Court in December 2010. I think it was whilst I was at Northaw that I decided I would like to direct the Royal Tournament, so even after 50 years dreams can come true.
Andrew DUNCAN (1958-63) No big change here, but I am always interested to hear from 21-24 year olds who want to get into publishing or the media. My company Duncan Petersen runs a graduate traineeship scheme. We publish illustrated books and guides.
Anthony WHITAKER (1961-66) Travelling to South Africa in January, thus avoiding all of the snowy weather, thank goodness, I was in the W H Smith bookshop at Gatwick when my eyes fell on a book called "HOW TO BE A BETTER PERSON" by Seb HUNTER (1980-82). Recognising that I was in the presence of ON-ness (if there is such an attribute) I bought a copy, started reading it immediately and really enjoyed it. When we got back to Hampshire, my daughter asked if she could borrow it. She found herself laughing out loud. So, two members of the Whitaker family recommend this book very highly – and it should be on the reading list of every self-respecting Old Northavian of any age. To complete the Northavian angle to our holiday, my wife and I visited Julian JOHNSEN (1971-75) at the Vondeling wine estate that he manages in Voor-Paardeberg, Paarl. Julian is happy to receive Old Northavians and the estate is well worth a visit. The wines they make are sensational and I can recommend an excellent wine merchant who stocks the range…(me)!
John McMEEKAN (1966-69) After thirty years as a Yacht Captain I have come home to be near a very neglected family. I live very quietly and am studying a law degree in the hope of becoming a solicitor and obtaining a legal position in the maritime industry. I am trying to finance my student existence by doing independent investing and an occasional relief Captain's job. I am divorced with no kids so have nothing to boast about. I can only list kicking a 60 cigarette-a-day habit, four years ago, as an achievement.
Jennie BALDWIN née Brown (1969-71) Last year I set up a care agency, Help & Company - covering the Horsham area, with a friend. This year has been very busy as we have grown. My husband, Bernie, has started a new job as CO of Age Concern Horsham District. Anthony (18) is studying Sports Coaching (Rugby) near Gloucester and Katherine (15) is in her final year of GCSEs at Heathfield. We had a great family holiday on the canals in France.
Alex COOK (1974-79) Nothing much to report but I'm still hard at work selling Road Cones and Construction equipment all over the country. I have a new email address (see List of Members details on the ONA website).
Henry WARREN (1977-83) Additions to the Warren tribe have continued this year. My sister, Hermione TILBURY (1980-83), gave birth to Amelie last February, a sister for Jake, who is now about 3½. Hermione and her husband, Jim, are living in London but have very recently sold up and are looking to head west early in 2010. As for my wife Rachel and me, we have our hands full with two small children, Ella (5½) and Felix (3½). We are both working from home in Faringdon, Oxfordshire, or in London. Busy times!! Also, it turns out that Nick THORNTON (1979-84) is living in Faringdon. I would be very happy to hear from anyone living in the vicinity, maybe for a pint or two in one of Faringdon's many drinking establishments. Or maybe, you are looking to head west out of London and are looking for some local tips?

Cecilia GIUSSANI (1978-79) A potted history - I have two daughters, Anastasia (6) and Zara (5) and after living and freelancing in Rome for 8 years, and London before that, I now live in France and work for the United Nations headquarters in Geneva as an interpreter.
Ben TWISTON-DAVIES (1980-84) I am still sculpting away - last year I made a dozen statues for the Oasis of the Seas, the world's biggest-ever cruise liner. In case he doesn't tell you himself, my brother William (1978-82) was blessed with the arrival of an excellent baby boy, Archie, in April 2009.

Adelaide THOMAS née Izat (1980-84) Alun and I now have a lovely daughter called Aneira, who is 13 months old.
Finlay HUGHES (1980-86) I am selling farms and houses throughout the south of England for Smiths Gore in Winchester. Still living in Appleshaw near Andover with my wife, Caroline, and children Humphrey (4) and Nancy (2). Going to the Norman Court Open Day to see if it is still the same as it was over 20 years ago - oh how time flies! My brother Alexander HUGHES (1980-88): he's working for Heineken and living in Collingbourne Ducis with wife Tara and daughter Yasmin.
Alexander BLYTH (1983-87) My big news in 2009 was the publication of my first book. "How to Grow Your Business for Entrepreneurs" was published by Pearson in July, was reviewed in national newspapers and business magazines around the world, and soon reached the bestseller lists. More information here: www.alex-blyth.co.uk. I'm now working on my next book "Brilliant Online Marketing" which will be out towards the end of 2010.
Dougal TRENTHAM (1984-91) What a year! Extremely happy living in Winchester and working in Romsey for Woolley & Wallis. My wife, Lissa, is blossoming ahead of our first child (due in March) and our little Jack Russell Florence keeps us fit and healthy in our 'off time'! A very exciting time for us all and I never thought my priorities would alter so radically in such a short space of time - though it has not (yet) kept me from turning out for the Romsey 1st XV!
Rollo de SAUSMAREZ (1986-91) All good here in sunny Guernsey. I am now the proud father of Thomas de Sausmarez since 25th August.
Thea PLANER (1989-93) The only news for me this year is the arrival of baby number two! Amelie Musselwhite was born on 30th October 2009, a sister to Dylan now 2½. All is well and they both seem to get on well, so far!

Victoria HIGGS née Hicks (1989-94) I am still living in Putney, married to Jason (have been for 3½ years) and this year we had our first child - Theodore Peter Jolyon Higgs, known as Theo. He was born on 25th September at Chelsea and Westminster Hospital. I am loving motherhood, and have been blessed (so far!) with a very easy baby. I was sad to miss the reunion but it was on the day that Theo was due. My brother Jeremy HICKS (1992-97) is still living in Frankfurt working for Crytek as a computer game designer. He loves Germany, and his job, and has even learnt a bit of German. Also, Heloise GRAVES (1993-??) is living with her partner Martin in Brighton. They have one son Hanan, who is 2½ , and she's expecting her second in March. Her brother Edward (1993-96) is living in North London.

Charlotte JAMES (1993-97) No major news from me: I am still working for Prime Purchase in Sloane Square and I moved to the glamorous East End in September. Lots of friends living in and around the area - I see Soraya JANMOHAMED (1989-99) pretty much every week. I also discovered the joys of the Glastonbury festival this year and am all set for another week of camping and music in 2010.

Sarah McCOMAS (1994-99) In 2009 I've gone through a complete career change and am now a baker! Having spent several months working in the Scilly Isles, I was then made redundant but quickly found myself a full time baking position back in Dorset. I currently seem to be up to my eyes in mince pies and Christmas cakes! Roll on January! My brother James (1992-97) is still working in New Zealand as a Food and Beverage Manager for an Accor hotel.

Rachel HARBON (1996-99) This October I started studying for a Ph.D in Chemistry at the University of Liverpool. My summer was occupied with teaching science, French & music to local children in south Manchester. I spent the ski season in Calgary.
JANMOHAMED family: Soraya (1989-99) writes: Farah (1991-2000), Jalal (1988-96) and I are all working together these days, having all graduated from university now with flying colours! Our family business is a company in probiotics – it's called OptiBac Probiotics. We specialise in targeting specific health conditions by using specific probiotic strains. We all have a variety of jobs (typical for a small company) but mainly Jalal overlooks sales and supply; I am enjoying looking after the website; and Farah is doing a great job looking after our international accounts (this keeps her travel bug happy!).

We would greatly appreciate a mention and a little PR in the Newsletter. Our website is www.optibacprobiotics.co.uk and we would like to offer all Old Northavians a 10% discount on the OptiBac range when they order online and use promotional code ON2010. This will be valid for one month following publication!
For those who do not know, probiotics are friendly bacteria which are fantastic for digestion, immunity, & energy levels. And taking them in a supplement is far more beneficial than sugary yoghurt drinks. Try it out!

Aside from business, we are all very well. Farah and I have started renting a flat in London. So, for most of the week we are based in London, and Mondays / Tuesdays we are in Andover at the head office during the day, and spending time with our dad at the family home in the evening. So far we are all happy to see an awful lot of each other; we haven't driven each other crazy just yet!
Roger POOLMAN (1999-2001) I was wondering whether you would be interested in including some news of the work I am carrying out here in Bolivia as part of my gap year. I'm almost midway through a year's voluntary work here in La Paz. I am working on a project that works with children and adults who live on the street and is part of a larger organization called Arco Iris that is based in La Paz. Problems in this group include alcoholism, solvent inhalation, prostitution, inter-gang violence and HIV. They age between 13 and 30, with the majority aged around 17-23. As well as carrying out street work - visiting them on the street, organising games for them, and educating them on topics like their health and the importance of work - I'm responsible for the area of work, looking for jobs for people we work with who have achieved some level of stability and security.
XXXXXXXXXXXXXXXXXXXXXXXXXXXXXXXXXXXXXXXXXXXXXX
Adam MURCH (1974-75), a Sky News cameraman, has sent us this report of his experiences recording the Haitian earthquake:
When your mobile rings at 4.45am on a cold and snowy January morning, it had better be something big. 7.1 on the Richter scale is big enough and the devastation I was to witness in Haiti was certainly justification for my rude alarm call.
Being told you're being sent to Port au Prince is one thing, but getting there was far from straight forward. The M25 was suffering with the snow and Gatwick was closed for the same reason. So it was back to Heathrow and after some delay I was off to Miami. I travelled with only two other colleagues on a flight packed with a Who's Who of British journalism. Finally in Miami for a few hours, we pay a visit to a Wal-Mart store at midnight to buy a generator and some camping equipment.
Our charter flight to Haiti is not deemed essential and preference is given to aid flights. So after two hours circling north of the island we land in the Dominican Republic. Seventy two hours and only eight hours sleep after my early morning call we finally drive into Port au Prince, feeling little better than the scenes that greet us.
The closer to the centre of the capital the more extreme the levels of destruction to the buildings, and our first sightings of what was to become the accessory of choice for so many over the next week, the disposable face mask. These white masks would be worn perched high on people's heads for most of the day, but whenever you saw a group of Haitians wearing them over their faces, you knew there were bodies in the vicinity. For many days these bodies were to lie in the rubble or in the street where the initial desperate efforts by the locals to rescue neighbours and loved ones had come too late. Eventually large construction lorries and diggers would move through the city removing the corpse to a mass burial point north of the capital.
Those who survived struggled to take back control of their lives and dignity amid the collapsed buildings. But come night fall the streets became dormitories of the displaced, too fearful of the after shocks to re-enter what buildings remained. Temporary barricades would be erected across the ends of the streets and patrolled by residents overnight to protect the traumatised survivors until sunrise. Throughout the night you could hear impromptu prayer meetings drifting across the darkness of this devoutly Catholic city.
Outside Port au Prince conditions were statistically worse. In a town west of the capital, in the direction of the epicentre we came across the only make shift medical treatment centre the residents had benefited from for a week. It was a school that taught nursing but it had no medication only the know how. Amputations carried out with no anaesthetic were commonplace, but even minor injuries treated on the day of the earthquake had now become septic and life threatening, in the absence of any medication. Here, too, large open areas had become accommodation for hundreds of people who constructed temporary shelters with only bed sheets providing protection from the sun and the soon to arrive rain.
All this literally in the shadow of the aid being flown in to Port au Prince airport over the heads of those who had nothing and could not work out why even after ten days they had not benefitted from any real humanitarian efforts. Of all my memories of my time in Haiti one of the most profound was the experience of an after shock. We were staying in the grounds of the Olafson Hotel, where Graham Greene wrote The Comedians, when there was a tremor of 6.6 magnitude. Everyone ran out of the buildings and I found myself standing by the swimming pool, watching the water slop backwards and forwards, breaking over the edge. It wasn't a gentle swell by any means, but it was an eerie representation of the force of nature. Shortly after this there was a massive groan from a building collapsing nearby, closely followed by the cries of anguish of some local women still living on the edge of their nerves.
NEWS FROM FORMER MEMBERS OF STAFF
Don and Mary CAPES (Staff 1970-1999) We have been to various places around England this year but have given up the flying bit at the moment as it's so much trouble and time at the airports. So, we are planning to go back to crossing the Channel and going vagabonding around as soon as there is some decent weather. We are very happy in and around the Wyre Forest in the winter – lovely walks along the Severn and in the woods. Best wishes to all Old Northavians.
Philip SPRINGFORD (Staff 1995) I am back living in Wellington, New Zealand after a few years in Britain over recent years. My wife Penny and I had our first child, Ben, this year which has been a great experience for us both. If anyone who was at Northaw while I was there is ever in Wellington, please make contact with me. (Telephone number can be found on the List of Members page of the website. Ed.).
Kevin FOYLE (Headmaster 1995-2007) The year 2009 has been a struggle for many and whilst we have been living and working in China which has been relatively unscathed, the ex-pat community has been quite badly hit with job losses, package cuts and relocations and the economic downturn has most definitely been felt.
Thankfully, we are all in pretty good order apart from the usual sports injuries. Gill is thriving in Shanghai with enough work sourcing products to keep her busy but also finds time to do things she enjoys ie cooking, keeping fit and entertaining. She has seen more of China than the rest of us but much of it industrial.
The boys are thriving Tom (1995-2005) is well over 6ft and is sporting a beard of sorts, living in Winchester and loving it. He is in his last year at Peter Symonds doing his A levels. He is still playing lots of sport - hockey in the winter last year for Southampton and this year for Winchester. In the summer they both play at St Cross, Tom in the first and second teams, bowling or keeping wicket and batting at the top of the order. Just like his dad he needs to be in the game but unlike me at 17 he smashes and plays with real freedom. He is also working at the Wykeham Arms which takes us full circle to my time living in the city. He has a very busy social life and is clearly thriving. He will take his A levels this summer: Business Studies, Geography and Product Design and then will have a year off (Australia and Shanghai amongst other things) before going off to university probably to study business.
Harry (1998-2009) has completed his time at Norman Court thus ending a 14 year family involvement in the school. He did very well in his 13+ Common Entrance exams with the pressure off and the security of a sports scholarship at Hampshire Collegiate in his pocket. He had a very successful season with the Hampshire under 13 cricket team contributing strongly with bat and ball and in the field. He is playing rugby and hockey this winter but can't wait for the cricket to start again.
This is our third year in China and we are still enjoying it. Inevitably it has its ups and downs, some things frustrate and annoy and running a big school for a profit making organisation is quite demanding. However, the quality of life overall is very good and the challenge of moving the school from not so good to great is mentally stimulating and rewarding. There is a lot to do in Shanghai and we have started to travel around the country. We are off to Harbin in the frozen north at Chinese New Year for the ice festival and some skiing and I will probably take the boys somewhere at Easter when they come out. I manage to fit in a little bit of sport including some competitive tennis. Great fun.
So we are happily established in China, but back in the UK fairly regularly, certainly for Christmas and part of the summer. If you are in the Far East or want to see China we have plenty of space and are always happy to have visitors. We have had a steady flow this past year including Ralph MELHUISH (1998-2003) and Oli ERSKINE (2000-03) and look forward to seeing more of you next year.
Best wishes for the year of the tiger.
Headmaster 1973-1989
January 2010 Here in Charlton All Saints, as elsewhere in the UK, we are at this moment covered in snow but with a blue sky, sun and freezing air to go with it. Rather reminds me of the times at Northaw when the diesel in the school car "waxed out", the "dailies" walked to work and an intrepid party armed with bags and sledges walked/waded up the North Drive to fetch the bread from Matthiae's Bakery in Winterslow. Lucy Pease was in that party - see below. There was also the year when I drove several of you to Luton Airport after one of Mr Lodge's taxis had failed to return from a previous trip. Poor Tamara Morley (1980-83) was the last one I handed over to the Service Escort people. Ah memories! But have you noticed that even nostalgia is no longer what it used to be?
There is not a huge amount of news this year because fewer people have sent news and fewer Christmas cards have arrived. What with email and the Royal Mail strikes back in November the decreased volume is hardly surprising. In no particular order as usual, here we go!
Back in June we had a lovely letter from Lucy Harvey née Pease (1983-85) giving us news of herself and her family. Her husband has now joined her in her firm running a design studio and she has, as well as little Maya, a 4 years old daughter, Ella, who has by now started 'big girls' school' with great excitement. Lucy sent us photographs of these little people with her and all three are stunning! From their flat, the Harveys have a lovely view of Edinburgh and the Firth of Forth but there are 103 stairs to climb and no lift! Lucy reckons that parents will make it to the top if lured by promises of Prosecco. I hugely like the idea of the sign Lucy says there is in the window of her local "deli" which reads "only two politicians allowed in at once". The dear girl says that she wants to take Anne and me out to lunch when she is next down south: we have a pretty clear diary, Lucy dear!
Out of the blue I heard from Timothy Ault (Staff 1984-86) whom, as Mr Ault, you may remember introduced his own Latin Invaders programme to his Classics teaching. This was very welcome and innovative stuff and was popular. Tim is married to Denise and has a daughter called Imogen. They live in Elsfield, which is just to the north-east of Oxford. He would love to hear from anyone who remembers him. (Details in the List of Members. Ed).
Lucy Smith née Baines (1979-81) sent us a card and a photo of her three sons Samuel, Patrick and Edward: number 4 is due in April. Peter Baines and his wife are expecting a second daughter in March. (To someone of my generation it still seems miraculous that one can be told in advance what one is going to "have", if you see what I mean!). Simon Baines (1979-84) and his wife, Helena, have two children, Alexander and Marianne. How good that the Baines clan is growing so well!
Mark Harris (1981-83) is still hanging on to his job with Lloyds in Bristol and his brother, Tim (1981-84) who is in the family nursery business near Newbury, is "trying to control his two very lively children": this is a straight quote from mother Margot's Christmas card!
Mrs Mo Lockyer has now been cooking loyally at the school for 35 years! We recruited and appointed the Lockyers in only our third term at Northaw and they were among the most successful and affectionately loyal people I ever appointed. It was great that Mo's picture was in the Salisbury Journal but such a shame that the paper could not spell Lockyer but put the name in as Lockye.
Kenyon family Mary Kenyon wrote to us that Amy (1984-89) and Neil Rafferty's little Katherine Elizabeth arrived with quite some drama but all is well now. James (1986-91) is in the West Indies with work and play, and Sian (1984-88) continues to sparkle in London.
Iain Allan (1980-84) and his wife Corinna have a daughter called Amy who was born on the 1st December, 2009. Iain is a most useful fellow and operates a taxi in Salisbury. May I say in all sincerity how proud I am of the huge scope of careers and professions that "my" Northavians have chosen to follow? It shows a level of health in the school which I had always hoped to achieve and in which now I can truly rejoice.
McKeown family In her card to us, Rhona, mother of Kieron (1978-84), Hamish (1978-85) and Catriona (1979-87), said that they will be spending a lot of time in Germany in 2010 in support of Catriona while her husband Nathan Sempala-Ntege is away on a posting to Afghanistan among other places. Kieron and Hamish are in good form, I gather. Rhona had met Greg Player (1979-83) at the school Carol Service: apparently Greg has been very ill indeed. Let us all hope and pray that he is better. (Editor's note – thankfully, Greg is now much better).
Grant family Christine (you MUST of course remember her, the School Doctor?) tells me that Nick (1985-89) has just finished a year working for "Save the Children" and loved it. Jo (1985-89) is engaged to a Norwegian lawyer and will continue to live and work in Oslo. That Norwegian young man is one very, very lucky Viking! Congratulations! Tom (1985-93) is still enjoying a consulting role with First Great Western. His mother adds, "…so of course the trains are still awful!" Ah well, of such is maternal love and pride!
Nicola Rawnson (1983-91) had another baby in October, a boy (I have lost her married name, sorry!).
Joby Royle née Joanna Phillips (1986-89) has had a very busy year being a physiotherapist in about 3 hospitals at once, as well as being mum to Joshua and Isabella. She tells me that Paul (1984-89) my last Head Boy, has moved house to Wimbledon and has left Deutsche Bank with two of his ex-bosses from DB to form their own company called Londinium Capital. Good to see the solid Northavio-Wykhamical classical education working in there! Thanks, Joby, for the picture of the angelic children. Gorgeous!
Craig family Matthew (1983-88) continues to travel widely for Cranfield Crisis Management and his wife, Becks, has returned to teaching after the birth of their second child Reuben, a brother for Chloe. Duncan (1983-89) was married to Eileen in Cornwall in the summer and this was followed by a blessing service in South Africa. Duncan continues as Deputy Travel Editor of the Daily Express.
Soffe family We had the most super news roundup from the Soffes. They are, of course, now the Pilditch/Soffe/Wills family and the latest arrival is Georgia Pilditch who was born to Rosanne (1979-84) and Justin on St George's Day. All seems to be very well with Rosanne, Simon (1979-87) and Holly (1982-89): it is with families such as these that the future of this realm "doth chiefly depend".
Charlotte Waterhouse (1985-90) continues as Assistant Principal at Westminster Academy. Her sister, Tessa John (1987-92) now has a Personal Assistant and this greatly enhances her standing in the world! The whole family are clearly in great heart and doing fine things. Well done!
Well, that's all I have for you this year other than to mention that we had a great day back in September when all too few of you met up back at Northaw. The weather was superb and we had a grand time meeting Billy (Nabil) Askar (1976-80) and his daughter as well as several more of our special 1980s "children"; Anne and I were only sad that not more of you could make it.
It was great to see both the Gilroys and their families: Vicky Baxter née Gilroy (1982-86) who is much taller than I am, demanded her 25p for topping me. I had to point out that the reward was originally half-a-crown and was to be awarded to any boy taller than me at the end of his last term. Girls taller than me were to be fined the same amount!
Well, there we are. Anne and I hope that you will all, wherever you may be, have a superb "twenty-ten" and that you may all achieve whatever may be your hopes. God bless you,
Denis and Anne