Welcome to the 2009 edition of the ONA Newsletter which follows very much the same pattern as in previous years (still available for you to read in the Archive section of the ONA website). Happily, this year we have no Obituaries section but we do have contributions from three past Headmasters as well as from Paddy Savage, the current incumbent. My apologies to all concerned for any apparent non sequitur in that last sentence!
Committee matters: As you will see if you read right through (and please do so, there is much interesting news from ONs of all ages) my first Thank You must go to Holly Wills (née Soffe) for yet another superb editing job. She has been working away at this since well before Christmas and her hard work shows, as I'm sure you'll agree. Thanks also to Rose Hall (1995-2000) who has stepped down from the ON Committee. Rose joined us at the outset in 2003 and has done an excellent job representing her era. She is replaced by Sam Hollas (1995-2000) whom I welcomed to the Committee last year. Another original Committee member, Charlie King (1990-96) has expressed a desire to retire. I would be very happy to hear from anyone who was at Northaw during the early 1990s and who would like to volunteer to join the team. Please email me – anthony@oldnorthavianassociation.co.uk - if you would be interested. It isn't hard work, I promise, and the main duty is to attend one meeting a year and, if possible, the annual "event" which normally combines with our AGM.
Reunions: Paddy Savage and Alverne Bolitho (1969-74) have both written glowingly on the subject of the 1970s Reunion held in September 2008. At the time of writing (early April), we have not reached a final conclusion about this year's event but, thanks to the mass emailing capability that we now have through the website, we will spread the word as soon as we can. The most important point to make about these reunions is that the more ONs and their families that can join us, the more enjoyable the day will be for all concerned. Nostalgia is a much underrated emotion!
Website: After last year's Newsletter was made available on the website, it was suggested that we might make it more navigable, so that ONs don't have to scroll through the entire document to get to the news from their immediate contemporaries. At the risk of sounding political this is, at the moment, an aspiration rather than a reality but we hope to achieve this in due course. For now, you'll just to read through it all to find those nuggets – but as it's all so good, this shouldn't be a problem!
Membership: With apologies for repeating myself, there are still lots of you who haven't yet given us your permission to allow other ONs to see your contact details on the List of Members page of the website. It takes no time at all to fill in the relevant boxes on the Registration page and then your friends and contemporaries can keep in touch with you. We are also setting up an Old Northavian group on Facebook but I'm far too old to have a profile (I believe I've got the terminology right?) so those who can should find it.
with best wishes for 2009
Anthony Whitaker
Dear ONs,
Even as a relative newcomer to life at Norman Court, I was delighted by the success of last September's Old Northavian 1970s reunion. The event was well attended and much enjoyed by all those who were able to come. Especial thanks to Charlie Thomas, Peter Worlledge and Anthony Whitaker for managing it so skilfully and to the School Catering Officer, Stephen Mann for providing us with a splendid buffet lunch.
The presence of Billy and Heather Howard and Denis and Anne Blake provided depth and lustre to the occasion. Both men and their wives were in great form. I am aware that plans are afoot for another reunion for another ON group later this year. Details will follow.
As I write, at the end of March, there are eight scholarships to senior schools to celebrate. We continue to deliver in the way that we prepare our children for life after Norman Court.
Recently, I much enjoyed watching our senior rugby and netball teams performing on the national stage at Oundle School in Northamptonshire for the IAPS national 7s tournament and at Roedean School in Sussex for the IAPS national netball tournament. The boys and girls (who had qualified as regional champions) performed superbly at both tournaments. What has been as impressive throughout the term has been way in which these children and many others have behaved as ambassadors for the school. I am very proud of them.
It was good to see this in an Old Northavian, Tom Homer, who is enjoying a rich vein of form with his club rugby team, London Irish. He was interviewed on the television after a recent game against Northampton, having played a leading role in his team's victory. As with our boys and girls, Tom offered a mix of enthusiasm yet great maturity and modesty – it was very refreshing to see.
Clearly there are common character traits which are apparent in Northavians of all ages and vintages. It is my fervent hope and intention that we will continue to nurture these virtues in the current and future Norman Court pupils.
Paddy Savage
Mark STRATTON (1939-44) We had a magical trip to New Zealand in May to see my son, daughter-in-law and new grand daughter who live near Christchurch. Wonderful scenery, some good fishing and lots of Marlborough Sauvignon Blanc. The highlight of 2008 was the news that my wife Miranda had been awarded the MBE for her charity work in Norfolk - this necessitated a new outfit for the trip to Buckingham Palace and subsequent investiture by the Queen. My eldest son, daughter and I attended the ceremony and we were all very proud. I do not see many Old Northavians now but regularly keep in touch with Desmond Heyward (1939-47) who was with me at Surrenden and Loton Park.
Ian STEWART-HARGREAVES (1945-51) Not much news this year, but for next year's Newsletter I will let you all know about the journey that I will be making from Bordeaux to Santiago de Compostela following the coastal route to Irun, through the Pyrenees by the Tunnel of Adrian, which is a pre-Roman route that utilized a defunct water course. This variant joins the Camino at Santo Domingo de la Calzada. This will be my fourteenth journey to Santiago as a pilgrim. If all goes as I hope that it might, I will also be able to brag about getting the book that I have written of the earliest Scottish Church published, but please do not hold your breath!
Richard FABER (1951-53) A couple of years ago my wife & I drove around South West Australia which is beautiful and completely atypical of the rest of Australia (not suggesting that the rest of Australia isn't beautiful!). I kept a diary from which I could make a short summary as advice for anybody contemplating something similar. In January 2009 we'll be driving around Tasmania as part of our next trip down under - we try to go about every 2 to 3 years as one of our daughters is now Australian and lives in Brisbane.
Michael MATTHEWS (1951-53) Is there anybody from Northaw living in Arizona? I am trying to trace Ian Chapman (1950-55) and Iradj Lak (1951-53) both old school chums from 1950-53. If anyone knows them or where they are my details can be found on the List of Members page of the ONA website.
Patrick MARTIN (1951-55) I lead a low profile life in the canalled city of Birmingham but at the start of 2008 I was getting over my travails with the windows of the Cathedral of St John, Antigua, the earthquake following my illegal entry into their country. I have just bought un petit forêt in the Limousin and, beginning in this Spring (when it is warmer) it is my intention to construct une bicoque autonome of my own design, on the slope down to the river. Today I have just returned from the graduation ceremony of my middle son in engineering.
Anthony SHERMAN (1952-54) Just to announce the birth of our first Grandson - the only one in the extended family who can carry on the name - all the rest are girls! I am now retired (through ill health) from running a Charity working with ex-offenders. Health now, perversely, back to normal! Looking for something else to keep me occupied, but in the caring field. No-one seems to want active 67 year olds! I have moved from a flat to a house, still in Wimborne, and managed to sell at a high price (and buy cheaply) and quickly in the current market! I have also taken on a new role as Registrar to Wimborne Cemetery - looking to the future?!!! Fascinating "living" history - the huge ledgers are leather bound and all have to be completed in ink. Montague Druitt (Nº 1 suspect for Jack the Ripper) buried there. Still working voluntarily with ex-offenders and drug addicts, helping them to change their lifestyles.
Patrick MATTHIESEN (1953-56) I continue to run my gallery in London and am organising an exhibition later this year of Spanish Sculpture 1500-1700 to run parallel with a similar exhibition at the National Gallery. I am en route to Peru to open a project we co-sponsored. For information see www.thematthiesenfoundation.org
Nigel WILLIAMSON (1955-1961) I feel that being made redundant after 30 years with the same group of companies is not particularly interesting news but it's a sign of the times. However, I have just returned from a 7 day sailing adventure around the Canaries with the Tall Ships Trust on board Stavros S Niarchos, a square rigged 60 metre brig as a crew member - great team work and good for beating the winter blues. Otherwise I'm keeping involved with the local community and still enjoying cycling for charity.
Harley NOTT (1956-1961) In 2001, I founded Coach House Rentals London, which offers short stay lets (minimum 5 nights) to people mainly visiting the city on holiday in under-used London properties. These are owned by people who are away from time to time, do not want to long let, but welcome the extra income such arrangements bring. Following the success of London, the business has now been extended to Paris and New York. So if any Old Northavians have an under-used property in one of these cities and would like it to generate some income or want to visit and stay in a comfortable rental rather than a hotel you will find details at www.chsrentals.com
Patrick O'NEILL (1956-62) Since I sit out in Japan I feel a bit remote and not helping the Association. For what it is worth, I work for a Gas Shipping company called BW Gas developing business in Asia for the company in Petroleum Gas and Natural Gas shipping (not the most scintillating conversation piece unless you are involved in the business). I'd be happy to meet up with anyone who is in Tokyo - contact details on the List of Members page of the ONA website.
Michael (Anton) SCOTT (1957-62) I've looked at the website and read the 2008 Newsletter with interest - some familiar names (even after all this time!) including that of Chris Joll (1957-62) whom I remember well and was a close friend of mine while I was at Northaw (as I will always know it). I'm afraid I'm not very good at keeping in touch but for the record I'm currently living in southern Spain (in Cadiz province) which I like a lot better than the UK these days! I'm working (laboriously) on a sort of memoir / autobiography, so if it ever gets published I'll let you know. My brother Tim (Head boy in 1964) also lives in exile, has a house down here in Spain and is currently working in Qatar.
Duncan WALLACE (1958-62) My wife Svetana and I currently live in Sofia, Bulgaria, where I practise as a Solicitor. I studied law at the School of Oriental and African Studies and Brussels University (ULB). I spent a while in a law office in Bahrain and then worked with the European Commission in Brussels. We have a son, Mino, and a 2 year old grandson, Ivan. The photo shows us all and Mino's wife, Camilla. My son had just come off from playing in the Bulgaria XV. They won the match!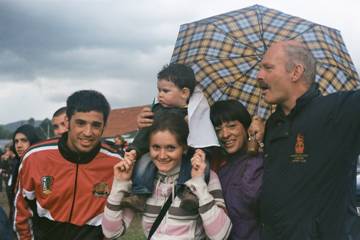 Andrew DUNCAN (1958-63) The only news I have to report is not of me but of Billy Howard, Headmaster in the 60s when I was there. He is a neighbour of mine in the country and I went to dinner there recently. He and his new wife Heather entertain well. He's recovered from the bad time he had with his knee last year and on good form. He must be in his 70s now, but he didn't seem much different.
Angus MacCONOCHIE (1959-61) Angus here in lovely New Zealand where the weather is hot and sunny, enjoying daily swims at the local ocean beach called Omaha (look it up on Google map) also where I live - Point Wells. Would enjoy hearing from any ONs who remember me during Tommy Thomson's time etc. I still keep in touch with Tommy and we exchange a yearly calendar. My days at Northaw were very happy times and I am so pleased that Northaw is keeping up the tradition; would dearly love to revisit and bring back the memories of yesteryear. A good friend from that time was John Foster (1956-61) and lots of others. Miss Bream was teaching Maths - never got my 9 times table right! Sarge took PE, and of course the Matrons who kept us spick and span and healthy with a daily throat spray that I am sure tasted like used sump oil! If anyone is visiting NZ do get in touch and I will do my utmost to make you welcome to our beautiful country - well worth a visit and a great place to live.
Philip SHAW-HAMILTON (1964-65) Sending in news always sounds boastful because one only wants to report the news you feel will impress! I can't remember whether I mentioned I play Real Tennis at Moreton Morrell - it's a wonderful game and it's never too late to take it up. I have been on the GB over-50 team for the last six years and we have a World Tournament every 2 years or so. Last year was in New York, in April, and GB beat all-comers - that is Australia and America (the only other country to play is France but they didn't send a team). I am currently GB over-50 Doubles champ but lost in the finals of the singles this year. During my "youth" (my early fifties!), I managed to hold the World over-50s Singles, GB over-50s Singles and Doubles titles - alas younger men are on the scene now, so I look forward to challenging for the over 60s!!
I have always been remarkably unsuccessful in the world of work so no news there then - I just scrape by selling and fitting blinds. One of my managers many years ago did remark that if I put as much effort into my work as I do into squash (I used to play for Hong Kong and Japan) and tennis I may have had a successful career. Oh well - better to be healthy, fit and poor rather than of ill-health and rich - though I would have liked to be fit and rich!!

My partner Wendy (freelance journalist) was invited to meet the Queen recently for her work with the Royal Forestry Society. She is the steadfast one of our relationship though I always maintain that one puts up with one another's idiosyncrasies in equal measure. Her two children are out of university, building schools in Ghana, travelling the Far East and generally putting off getting down to work! My own daughter, Catherine, is a very happy mum with a delightful baby girl, Jasmine, now 20 months.

We spend most of our spare weekends going to Pembrokeshire where we have a holiday cottage to let. Anyone who wants to use a holiday cottage (3 beds sleeps six) can contact me for favourable rates or visit www.coastalcottages.co.uk and plug in Rose Villa, Brynhenllan, Dinas Cross or the code 12646 for more information.
Simon CLEMENTS (1964-1969) I changed jobs in 2007, from working in London for Penna plc to MD of a small learning and development company, called Xafinity Skillbase, based in Hampshire, only 20 minutes from home, near Petersfield. The move means that I see a lot more of our (wife, Penny) two children – Alexandra (12) and James (10) which is a shame, I mean a bonus! The children are at schools in/near Haslemere. The Headmaster of James's school, Matthew Unsworth at Barrow Hills, was a master at Northaw (1991-95) – small world. Life seems to revolve around the children. Still play occasional games of tennis but realised that I'm not quite as fit & nimble as I was when I came in a rather lousy 3rd at the Barrow Hills summer sports day fathers' race (100m), much to the disgust of my son who had just won the 200m! I then realised it was 34 years since I had run my last 100m, so maybe 3rd wasn't so bad!
Stephen WINDSOR-CLIVE (1964-69) One can't really imagine that other people can be much interested in one's affairs and being now past 50 I am beyond the reach of the Facebook generation. I did, however, much enjoy being invited back to Northaw just over two years ago for a football team reunion and so offer you this. In January last year, I was travelling in India on the pretext of visiting my father, who had taken a house in the mountains of Tamil Nadu to avoid the British winter and celebrate his 80th birthday. I live in Andalusia, in a mountain village from where you can enjoy views across the Straits of Gibraltar, far into Africa. I can visit my mosaic workshop - www.realmosaic@yahoo.com - for the day on the fast ferry to Tangier and return for a late dinner but that was more fun when I was 40. I am currently typing this email from an old colonial hacienda, situated about 10 minutes walk from the zocalo in the Historic Centre of Mexico City. The house is being restored over a period of about two years; this year I plan to move the mosaic workshop from Tangier to Mexico. In February's edition of House & Garden we are being featured with a quite extensive look at Roman / Byzantine mosaic work. We have a minute dolls house in the Kasbah of Tangier which is currently for sale.
Ivo HESMONDHALGH (1965-69) My family and I have now moved back to England. The house that I have been building in South Kensington is now finished and won the RIBA award in 2008 for a new house. I spend half my time in Bulgaria building warehouses: not that exciting but someone has to do it.
Richard STRADLING (1965-70) Last July I cycled from Lands End to John O'Groats together with three cycling friends. I was inspired to get back to cycling about 4 years ago by a good friend called Simon. Simon developed kidney cancer a few years earlier and took up the challenge of running and cycling various routes around the UK. He completed "Le jog" in 2005 and I joined him that year for a couple of days as he passed through the Midlands and just east of Cheshire where I now live. That was enough inspiration to commit to doing the route in 2008, and arrange with work (easy) and family (not so easy) for two weeks absence just before the end of the summer term in mid July. We selected a route that was generally on B-roads, staying most nights at youth hostels and relying on pubs for the evening meal. Although not blessed with the driest of summers, we managed to dodge the showers on most days apart from one when it was torrential throughout and even the most waterproof jacket was going to succumb to the moisture attacking it from all sides. Day six (out of fourteen) brought us to Cheshire and a night at home (and change of clothes) before setting off for the northern half of the trip. Although one naturally fears that Scotland will present the most challenging section with frequent and long climbs, in fact the sections north of Glasgow gave some of the most enjoyable cycling; travelling across Rannoch Moor with dark menacing skies above, to arrive at the top of Glen Coe as the sun came through the cloud, was for me the best hour of the whole trip. For those of you who have done it, I hope that you got as much out of it as we did and for those who have not – I recommend you put it near the top of the list of things to do.
James McCONNEL (1966-71) I haven't seen anyone from Northaw in an age, so I can't offer any help vis à vis other people but I'd be quite interested to know what everyone's up to. I'm a composer: I'm writing the music for a Hollywood horror film, a five part drama series for Channel 4, and writing (and presenting) a reality TV show in which I'm teaching twenty people with Tourette's Syndrome to sing, to see whether it helps their symptoms (I have Tourette's, so I'm quite a good judge). I also wrote and presented a documentary called What made Mozart tic? in 2004 for Channel 4. I've written a book called Life, Interrupted (available in all good bookshops) and am now writing a novel. I moved house recently – my new address is on the ON website. And I have my own website www.jamesmcconnel.com
Jonathan BURT (1966-71) Reading the 2008 Newsletter I was sad to see the news about Mrs Thomson who did once remind that I was one of the very few boys she ever gave a stripe to (for invading a rival dormitory single handed at an inappropriate time on a Sunday morning). And when I registered on the website, scrolling down through the list of my contemporaries brought back names I haven't thought of for years. I do remember David Thomas (1967-71) very well and I last saw him when we were both undergraduates in Cambridge sometime back in the nineteenth century. And that story I wrote I have just looked at for the first time in decades. The irony of all this being that I eventually became a writer and this, I suppose, was my first ever published work. But as I write this I notice the story in the Miscellany above mine is by one D W P Thomas and contains the glorious line "After church Puffer goes along in 'is boat wiv 'is girlfriend, Agatha Middlebannister."
Alex GLOVER (1966-71) Alex here calling from Lagos, Nigeria. We have set up an advertising and communications business here. Many people think we are mad but it's nothing like the dreadful image it has in the rest of the world. The economy is a lot healthier than many others now and on the back of oil revenues there is a burgeoning middle class who all want phones, bank accounts, computers and even insurance.
Rory GILMOUR (1967-71) Having missed out on a 2007 ultra desert race, I managed to do one this year in Oman. A 200 kilometre race in unusually hot conditions for that time of year (45ºC) in a space of one week. I ran for Leukaemia Research Fund and somehow managed to complete it. Otherwise it has been a rather dull year for me. Working at my local school and being active in the extra curricula activities, my social life has been neglected. Hopefully, 2009 will be more accessible for me! I enjoyed the 1970s reunion and catching up with all the news from everyone.
Simon NOBLE (1967-1971) After reading history at Cambridge I drifted into banking, attracted by a year's training in New York. A second posting to NY turned into a 5 year stint in Mexico and NY since then. I have worked with Latin America for about 20 years in spite of grammatically challenged Spanish which my Peruvian wife Patricia has been unable to correct. I am a trustee for the French American School of New York, which 2 of our sons attend, responsible for fund raising. Why a French school? It all began when Billy Howard couldn't stand listening to my French anymore and insisted I did an exchange with a French family. I was unable to make the 70s reunion but the report brought back memories. I have lost touch with everyone but recently heard from David Thomas.
Marcus BROWELL (1967-72) I always seem to be missing the deadlines for the Newsletter since it was set up a few years ago, and the only comments that have appeared so far were not really intended as my "news"! So, I had better recap slightly. I left Northaw at the end of the winter term 1972, which was the year that there was a flu epidemic and everyone was sent home early. It is still a major regret that the leavers 'last supper' with Billy and Liz Howard, was cancelled, so the aura of secrecy that surrounded this event was never unravelled! I did not even get the bonus of going home early as my parents were living abroad at the time, and I assume that flights were more difficult to change in those days, so I stayed with Colin and Audrey Cooper, who looked after me extremely well. I seem to remember a number of visits down to the pub in West Tytherley!
I moved on to join my brother Quentin (1966-71) at Wellington College, a school that as far as I knew attracted only one other ON in my time. I enjoyed my time there, playing sports at House level, sailing and continuing to play my trumpet throughout, in the orchestra and various bands (and still play. Whilst working in the MoD I even ran a small band). Wellington was followed by Sandhurst and commissioning into 15th / 19th The Kings Royal Hussars. I joined my Regiment in Germany where I spent a large part of the next 19 years on and off at Regimental duty in various locations. This was broken up by tours in Northern Ireland, Cyprus, Bosnia, exercises in Canada, and a 2 year spell on secondment to the British Ski Federation as Team Manager for the British Cross-Country Skiing Team (this on the back of having spent 3 years running my Regimental Biathlon team). I married Lulu Allott in 1991. My Regiment amalgamated with the 13th / 18th Hussars in 1992 to become The Light Dragoons.
Latterly we seem to have spent most of our time outside UK, and fortunately in more exotic places than Germany. Postings to Milan and USA (Kentucky and Washington DC) were interspersed with an 8 month tour in Sierra Leone working in the UN Headquarters. We are now in Oman where I am seconded to the Royal Army of Oman as a Training Advisor – and what a fantastic country it is.
I have come across very few ONs in my travels, but have crossed paths with Miss Barton (ex Art mistress and now Mrs Christopher Walker). I bumped into Christopher in Bosnia as he was an Army Padre (having already had a full career in the 17th / 21st Lancers). I remember him asking me if I had a brother called Quentin, but giving no more information until we next met, when all was revealed. I was then able to tell him that I had been at his wedding in Salisbury Cathedral singing in the choir! I remembered the Lance Guard and stealing glasses of champagne to sip during the reception in the Close. Subsequently I met 'Miss Barton' at a 17/21 Lancer funeral.
There was another extraordinary coincidence in that I shared an office in Italy with John Heminsley whose 3 children all went to Northaw, and he and Kate were extremely good friends of Denis Blake. I think we only discovered this after I moved on to my next posting.
My brother Quentin went on to Exeter University (where coincidentally Lulu my wife also went, but we never met, despite her knowing my brother) and went on to join the Queen's Dragoon Guards. He left the Army in 1990 to go into Political Lobbying and has spent the last 8 years living and working in Geneva as a Corporate PR man. He married Isabell in 1990 and has a daughter Sophie (6) and a son Jasper (2).
Jonathan FORD (1968-73) My son Toby has just joined Clayesmore (sorry but we live in the village and so can walk to school!). I am looking forward to him having an away match against Norman Court. I met up with Richard Sutcliffe (1968-73) this autumn after about 35 years thanks to the ONA. Amanda, Toby (9), Grace (6) and I had an amazing fortnight in Rwanda earlier in the year.
Jenny BALDWIN née Jeanette Brown (1969-71) This year has been busy: I have set up a Care Agency with a friend in the Horsham area helping older people to stay in their own homes and be as independent as possible. It is going really well and we are very busy. Bernie is starting a new job in Horsham advising small charities and voluntary organisations about grant applications and fund raising. Anthony (aged 17) is now at Hartpury College in Gloucester doing Sports Coaching and really enjoying it. Katherine (aged 14) is at Heathfield in Ascot just starting GCSEs and enjoys school life if not the work!
Alverne BOLITHO (1969-74) I much enjoyed the 1970s reunion at Northaw (see separate article) in September on a beautiful (finally) summer's day. The school looked superb; after lunch it was interesting that we all slowly but surely headed towards the one area that we all remembered with such happiness – the woods! Pinpointing and examining where we all made our camps and club fires was a real memory jogger. It was wonderful to see Billy Howard and Denis Blake in such good form. I am glad to say that I remain gainfully employed in these very difficult times - with four children all at boarding school that remains vital. My eldest is now in his final year at Eton and busy planning a gap year including driving to Ulan Bator and back, working in Colorado and Peru and trying to get to Oxford while all that is going on! My girls are now almost 16 and 14, while my youngest boy is 11 so time flies by.
Philip MARSDEN-SMEDLEY (1969-74) - now known, more manageably, as Philip Marsden - have recently published my seventh book, The Barefoot Emperor; An Ethiopian Tragedy. I live in Cornwall with my wife and two children.
Charlie THOMAS (1969-74) All but one of those who went to Greece and Italy for two and a half weeks in the spring of 1974 with Stephen and Nancy Plaister are getting together for the first time since then. The trip was the second of three that the Plaisters undertook in the 70s. During a conversation with James Woodall towards the end of last year he mentioned he was writing a book about Greek theatre and that some of our adventures might feature. I suggested it might be fun to see if we could get everyone together again with Stephen, and the idea took off from there. Thus, we are all meeting for lunch on 25th April at my house which, appropriately, used to be the Plaisters' house. The following are planning to be there: Stephen Plaister, James Althaus (1970-75), William Casement (1969-74), Piers Lea (1969-74), Hugo Mallet (1970-75), Ben Money-Coutts (1969-74), James Woodall (1969-74) and myself. I am assured by several of the above that they still have the diaries that they kept during the trip, as well as many photographs. And given that two of them are travelling over from Germany, it is clear that the trip is fondly remembered by all. Details and photographs of the reunion will be posted in the next newsletter.
Julian JOHNSEN (1971-75) I heard on the radio the other day that the criminals who so ruthlessly shot Fred Picton-Turbervill (1969-74) in Pretoria in 2008 were arrested and convicted. Please tell any ON's to look us up if they come to South Africa. We are near Paarl about 50 minutes drive out of Cape Town. www.vondelingwines.co.za
Andrew GOSSAGE (1971-76) I was unable to attend the 1970s reunion in September 2008, but I hope it was a successful day, with great weather. Over the last couple of months I have completed my tour in Northern Ireland as Commanding Officer of 5 Regiment Army Air Corps (2 years) and moved to a new (desk) job at Middle Wallop. We moved house in mid-August and on the reunion day we were hosting a lunch for the housekeeper who had just retired after 23 years cleaning for the Commanding Officer 5 Regt AAC and his families (that's 12 families!) who all, but 2 families, turned up for the event. A memorable and happy day! I have now served 26 years in the Army and am married to Jessica (20 years this October), with Henrietta (15) and Tom (13), who are at Bradfield and Cheltenham Colleges respectively. All of the names are well remembered and it would have been good to catch up. Major Pete Martin in my office team at work at Middle Wallop has a son at Norman Court. My mother is still in regular contact with Billy Howard. Perhaps I will be able to make a future reunion in due course.
Daniel FAGAN (1973-1977) Funny you should ask about any news - my wife Bernadette gave birth to an 8lb baby boy. We are going to call him Ross Daniel. Everything is going well with him and his 7 year old big brother Marcus Christian is thrilled (that is until he catches him in his Lego box)! He was born on January 15th in Holles Street Hospital, Dublin.
Sean SCULLY (1974-78) I just thought I would drop you a line regarding Tommy. I had seen your earlier email at Christmas and my heart sank when I saw his name in the subject line, assuming the worst. This prompted me to go and see him, which I had been meaning to do since Mrs T's funeral, and as I had been since the late 90s when I had seen them both last. So my mother, brother Seamus (1974-79) and I went to see him around the New Year.

He had indicated that he couldn't get out, even to the pub for lunch, which is only 100 yards away. So I got the caterers in (me) and arrived equipped with the best pre-prepared food that "Lazy Britain" could provide. We stayed for almost four hours, and the time flew by. We had a few laughs, about me "guffing" (farting) in the bathroom, Seamus being the "fuse-man" in a little explosive team, together with someone who's Dad didn't count how many 4:10 cartridges his son had blatted off in the holidays, building huts, assassinating rabbits, Andy Colquhoun (1971-77) leaving laxative-laced Bourbon biscuits for Elsa the dog, our night escapades on the parapet that runs around the south side of the building, and a host of other giggles.

Tommy said that he was very glad he knew none of this at the time, but was very glad that the boys had enjoyed the school. In fact, it was the one thing he seemed most keen to hear.

The conversation ranged from the Classics, reading generally, different versions of History, as taught in different countries, a little bit about Tommy's war experience, his family background including a bit about his grandmother, and a whole host of interesting topics.

He has a genuine interest in his former pupils, as you know, and spoke of the Bakhtiar boys, amongst others, with whom I never "served" but always knew the name, having been friends with other Iranian émigrés.

I would encourage as many ONs as possible, from Tommy's time at Northaw, to visit him, since it is a relatively small thing for any of us who are able-bodied and well-intentioned, (especially those of us in Southern England), but a very great thing for him, and means so much, given the isolation which he currently suffers due to his poor sight and recent bereavement.

I can assure any potential visitors that, as long as one is generally forthcoming, with Tommy there are never any embarrassed silences. He hadn't seen Seamus in a decade, and my mother for 28 years. He is genuinely interested to hear about others, and a wonderful conversationalist, as long as you can translate "Tommy Speak" such as "Damn it all Sean, you are a blimming nuisance dragging your poor brother and mum all this way, they must be pretty fed up with you lad" which of course, as you know, means he is pleased to see you.
William EDMONDES (1975-79) Well, following the inauguration of President Obama, Kenny Goldsmith (legendary founder of ubuweb) sent out a call for reworkings of Elizabeth Alexander's inaugural poem on the general consensus that it 'sucked'. He then broadcast 50 of these treatments on his WFMU (New York 91.1FM) show. I (as Gwilly Edmondez) was featured three times over the 3 hour show. I was also invited to give a talk on Welsh Hip Hop at the National Museum of Wales last week, which was fun. My day job is lecturing in music at Newcastle University, where I also direct the Master of Music postgraduate degree.
Julian PEPLOE (1977-82) I left the UK in 1989 during my degree course at Central St. Martins in London to travel to New York as an exchange student. After the program ended I decided to stay in New York and finish out my education here. After graduating I began working at Sony Music as a designer creating album packages. Over the eight and a half years that I was with Sony I was able to work with many music artists that I'd admired over the years and after four years became Vice President of Design for Epic Records. I was fortunate during that time to win a number of creative awards, receive recognition from the major Graphic Design organizations and was nominated for a Grammy.

In 2001 I left Sony to start my own design business which enabled me to work on a much wider range of creative projects including, magazines, books, advertising campaigns and corporate identity. I continue to be able to work with music artists. This year I begin a new business creating lines of hand silkscreened greetings cards and plan to move into other forms of printed goods in the near future. This year I also plan to become an American citizen, only due to the fact that I can remain a British citizen, oh and the fact that America has finally elected a President I believe in!
William TWISTON-DAVIES (1978-82) I continue to work as a film and television location manager and live near Max Edgar (1980-85) in Shepherd's Bush, west London. In my spare time I surf, skydive and play cricket. I married Jessica Stratton in May and we are expecting our first child in March.
Hugo FULLER (1978-1983) Second daughter Violet Sky born June 2007 (sister to Lily Star). Still running an event production company in London but have split from my previous business partner and now working under the new name of Ultra Violet Inc. with my wife Catherine. Not much else to report... Keep hearing bits and bobs about the Craven brothers with whom I seem to share a number of mutual friends, but I'm terrible about seeing anyone... Must be the 24 hour job and 2 children running rings around me….
JACKAMAN family: Mark (1978-86) My wife, Emma, gave birth to a beautiful baby girl, Annabel, on 9th May 2008. We continue to live and work in London. Still have time to play a little cricket. Richard (1979-83) lives around the corner from Mark in Fulham and provides an excellent baby-sitting service! He continues to work for a small Chartered Surveyor partnership also in Fulham. Claire - gave birth to a baby girl, Amber, on 6th October 2008. She and her husband Ed also live and work in London. Parents - Nigel (former Chairman of Governors) celebrates his 70th in April this year and it's also our parents' 40th wedding anniversary later in the year - in August.
Catriona SEMPALA-NTEGE née McKeown (1979-87) This last year we had our 4th child - Miriam Hope Sempala-Ntege, born August 23rd 2008. She joins Noah (6), Lydia (4) and Joel (3). She is quite delightful and is adored by all in our family. We have found out where our next posting is to be and we will be staying in Germany for another 2 years, as we move from JHQ Rheindahlen, to 3RHA in Hohne this summer. And this year, we hope finally to get some renovation work done to our home in France, so we can decamp there for future winter holidays as well as the summer (it currently has no heating!). We're too large a family now to stay cooped up in our army home with guests!
Amanda BENBOW née Claydon (1981-86) We have just had a second baby called Freddie (born in September 2008 - 3 weeks early so took us a little by suprise!). Elisir is warming to her brother but still likes to put him in his place with the odd sisterly wallop! We are living in Putney and loving it. I am now a full time mum and also loving that! It is great to keep up to date with Old Northavians. We went to look round the pre-prep the other day and were very impressed - definitely in mind for our kids if we move out of London.
Pru ROWLANDSON (1981-86) I'm publicity director at Granta, based in West London - I've been here for 2½ years - so it's not really news. I'm pretty happy with my lot though - life is busy and friendly. I live very near William Twiston Davies (1978-82) which is nice. I see Ben Twiston Davies (1980-84) regularly - he's always been a good pal of mine (more to do with the fact we grew up in the same village than Northaw). Billy (1983-89) my brother and his wife Eva had a baby in August 2007 - Lucia Rowlandson Fernandez - and she's fabulous. I'm a very proud Aunty.
James PARSONS (1981-1990) I married my wife Sam in June 2007 and we've just had our first son, Hugo, born 29th November 2008. We live in SW London and I run a recruitment company in sunny Richmond. I graduated from Newcastle University in 1999 (seems a long time ago!!).
Vicki BAXTER née Gilroy (1982-86) This is the first time I've ever managed to send any news to ONs (shame on me but I think I've still beaten my brother, Justin, to it). In short, I'm married (since 1999), have two little boys and have lived variously in England, Scotland, Ireland, Austria, Germany and, in 2008, returned to England from two fantastic years in Australia. We are currently living on the south coast of England, near Portsmouth and the closest I've been to Northaw since I left! After time out to have and be with my children, I have recently returned to the wonderful world of work. It's a change of direction into teaching in a secondary school, using my MA in languages from Edinburgh University, gained longer ago than I care to remember! I've bumped into a few ONs over the years, including Holly Bennett (1981-86) and Pru Rowlandson (1981-86) who were both in Edinburgh at times during the 9 years I lived there; and James Short (1982-84) has made it to most places I've lived. He recently (very kindly and bravely) babysat all five of my and Justin's children – the cousins are quite formidable when they get together! I have extremely fond memories of my time at Northaw, too many to mention here and always enjoy reading my contemporaries' news and stories so am looking forward to the next update.
DAVIES family: Max (1982-88) reports - I am a barrister with a mixed practice from Temple Chambers in Cardiff. I left London in 2001, spent 2 years abroad just bumming around the world and then moved to Cardiff and retrained in Law. I'm married to Kerry who is a speech therapist and we have two daughters Isla (3) and Mair (1). We live in Penarth, outside Cardiff, and have no time for anything other than work and kids, besides the odd holiday. My sister, Gussie Harris (1984-88) is still living in Brentwood with her husband Mike and their two daughters Mimi (5) and Clio (2). I bumped into Oliver Brooke-Dean (1982-89) at a wedding last summer and recently looked at the old place from above on Google earth to be surprised at just how small the woods are, they must be Tardis-esque.
SOFFE family: Rosanne (1979-84) and her husband Justin Pilditch are expecting their first child in April. They, together with their terrier Womble, continue to enjoy life in West Ilsley (near Newbury) and are expecting their first child in April. Simon (1979-87) and his wife Alex had their first child, Arthur Thomas in September 2008. They live in Twickenham. Holly (1982-89) and her husband John Wills are living near Bristol and for the first time in 6 years, 2008 did not see them move house! Holly is working for an engineering firm in Bristol and is also in her second year of evening classes learning Mandarin Chinese at Bristol UWE. They spent 3 weeks in China and are hoping to return soon to see more of the country.
Henry PEASE (1982-90) I'm still working in renewable energy, living in Brussels with my wife Nicola and 18 month old baby, Sebastian. We are expecting our second child to arrive in June.
Jake (James) EDGLEY (1983-85) I married Katherine in 2007 and last October (2008) we had a baby daughter, Sadie - all very grown up now! I started my own Architecture practice around five years ago in Shoreditch, East London - www.edgleydesign.co.uk. All in all, life is busy and exciting at the moment, and looking forward to what 2009 will bring.
And news of others.... I attended Charles Carnegy's (1983-89) wedding last summer along with Olly Brooke-Dean (1982-89). The wedding was in Switzerland with the reception half way up a mountain overlooking Lake Geneva. It was a truly fantastic day (and night) but getting back down the mountain in the early hours of the morning was quite a challenge!
BADHAM family: Richard (1983-87) I'm still working for Rolls-Royce in Bristol on various projects including propulsion systems for a couple of unmanned air vehicle prototypes that should be flying sometime this year. My wife and I had our second baby, Alexander James, on the 19th November 2008. Everyone is well (although very knackered) and the two kids are keeping us more than busy (hence not having time to write much)! Harry (1984-90) and his wife, Vicki, are still living and working in London. He has nearly finished renovating his house whilst also trying to manage his two kids, Louis and Aveline. Tim (1989-92) is still in the army and seems to spend most of his time partying although I'm sure that will change soon as he got engaged on New Year's Day! He is back out to Afghanistan sometime soon. Eddy (Honorary ON) is still living/working/ partying in the Salisbury area with no signs of settling down.
Nick BOXHALL-HUNT (1983-87) I'm still living in south west London and keep in touch with a few ONs but mainly Tom Selway (1983-88). This year I have been selling Business Intelligence software which funds my life outside of work. My holidays this year have been: Skiing (France); Skydiving (Spain); Pamplona Bull Run (Spain); Climbing Mt Toubkal (Morocco); Riga; Getting "lost" in the Lake District in the Original Mountain Marathon with my brother, Bruce (no-one was actually lost contrary to BBC reports); Freediving (Dahab). I enjoy long weekends - making the most of the few holidays I get. I'm looking forward to climbing Mt Kinabalu in Borneo in February 2009 and Mont Blanc sometime next year. This is a single man's antidote to all those married stories! Workwise, I'm still with QlikTech, the world's fastest growing BI software vendor. Bruce (1985-87) is still my brother, flying in helicopters for the Met Police. You may have seen him on SkyCops.
FIREBRACE family: Patrick (1983-88) reports that "sadly Mary Firebrace, mother of James (1982-86), Patrick & Charles (1983-88), died unexpectedly in mid-December 2008. She was an almost constant on the touchlines for 7 years and supported the school in many ways. There was a high attendance from ON pupils and parents at her thanksgiving service for which the whole family are very grateful. Charles and his wife KC have moved back to the UK with their 3 children. My wife and I are still living in Bristol with our 3 children and James is still in London".
Charles CARNEGY (1983-89) I got married in June 2008 to Abigail Draper who I know from University.
James BAKER (1983-90) I am married with two daughters. I am an army officer and am currently serving in Afghanistan.
Gussie HARRIS née Davies (1984-88) I'm really sorry but I have absolutely no news whatsoever. I still live in Essex with my husband and two daughters. He works, I cook, they misbehave. Hopefully more news for the next one!
HARRILD family: Ben (1985-90) got married on 27th September 2008 to Joanne Adlam in Amberley, West Sussex. Zoe (1986-91) and now Mrs Sheridan-Wasey is pregnant and expecting in May 2009.
Anna WOODHALL (1985-90) I'm currently living in London (Vauxhall) working in the city as a PA for Close Brothers (investment bank). Things are going well despite the credit crunch! About to go away for the New Year in Egypt having spent Christmas with my family (brother included - who is back from Australia for 5 weeks. Simon (1983-89) has been there since July 2007 - teaching and living with his Australian girlfriend Amanda). I'm still very good friends with Abby (1986-91) and Julian Nelberg (1983-88).
Alex ARMSTRONG (1986-91) Following Northaw I moved on to Bradfield College. Having had an interest in teaching and previously completing a week of work experience at Northaw I pursued my interest and arranged a GAP year in New Zealand. I worked in 1997 at Lindisfarne College, the former school of 1995 GAP student Phil Springford (now married to Penny). I really enjoyed my time teaching and after returning to College to improve my A-Level results, spent four very happy years at Manchester University where I read Landscape Planning and Management, leaving with a 2-1 Masters degree with Honours. Some contemplation time, about which career path to take, saw me spend the first six months of 2003 circumnavigating India and Nepal with my two brothers, Jamie (1988-1993) and Tom (1994-1997). My partner Milly and I are still keen to travel to many places and in the last few years have visited Peru, Ecuador, Cuba and Iceland. On returning to England from India I decided to pursue my interest in teaching and combine it with my passion for the outdoors and travelling by working at an outdoor education centre in Swanage. Working for the season of 2004 and returning with Milly in 2005 confirmed for me that classroom teaching was a career worth considering and in September 2005 I embarked on a Secondary Geography PGCE at Exeter University. On completion of my PGCE I was keen to apply for a job that I wanted to do and in December 2006 I was offered the chance to complete my NQT year at The Pilgrims' School in Winchester. Having been there since April 2007 I am now teaching geography, maths and am Head of ICT. I would welcome any ON to contact me if they would like any advice regarding teaching.
NELBERG family: Abby (1986-1991) writes - a very quick update: my lovely brother Julian (1983-88) is doing very well, still living in London (probably always will) and is working for PwC. I'm emailing you from India - have just quit my job as a headhunter to travel and then look for a proper job abroad somewhere - with new husband Nik. That makes it sound like there's an old husband but there isn't...! Anna Woodhall (1985-90) and I are still best friends, which sounds like we're still 7. She works at Close Brothers, is loved by all and is also living in London. Simon Woodhall (1983-89) has probably emailed you, but is living in Australia with his fiancée, Amanda.
Lottie LAMBERT née Heminsley (1987-90) I have been married for a year and a half and work in London as Lettings Manager of Douglas & Gordon in Fulham. No children yet.....!
Alice MAVROGORDATO (1987-90) I am working in Jersey for a year. I'd love to meet up with anyone who finds themselves over before August 2009. Perhaps some of you come over for business or holidays? It is a great place and I am looking forward to learning to surf when it gets warmer. I'll be working in the New Forest / Southampton area on my return, as a GP. My brother, Mark (1987-91) has been finishing off a very successful Biomechanical Engineering Doctorate in Southampton. Our parents live in the same house in West Tytherley and are really enjoying retirement.
James SINGLETON (1988-90) I married Tahera in Richmond Park in April 2008, followed by a party in Hanover and honeymoon in the Black Forest. Given the current markets, I am taking time out to study for an MSc in statistics (thanks to Don Capes for inspiration which never wore off). Now living in Leamington Spa, I enjoy Warwickshire country pubs and motor biking (though not at the same time).
Alex RUSSELL (1988-92) I'm a solicitor specialising in employment law at the law firm Eversheds. I married Nicola, a physiotherapist, in 2004 and we had our first child, Isabelle in April 2008. After living and working in London for several years we now live in Norfolk. It would be good to hear from anyone else from the class of 1992. Details on the List of Members page of the ONA website.
Lizzie BROWN née Edge (1988-93) I can give you some news about the Edges. Titus (1980-86) and his wife Marina had twin boys last Christmas. Two brothers for Isabel. My sister Kate Williams (1983-89) and her husband Tom had a little girl called Violet last summer. And I, Lizzie, got married last May to Rick Brown. The wedding was attended by my old ON friends Beth Gordon-Smith (1988-91) and Olivia Quarrelle (1988-92). I also attended Beth's wedding in September (she's now Beth Northey) and met up with other ONs such as Mark Harrison (1988-91) and Tom Johnson (1985-93). I also saw my gorgeous Godson Charlie, who is one of Beth's twins.
Katherine WICKSTEED née Brady (1988-93) David and I were chuffed to bits to become parents to the gorgeous Toby in March 2008. A fantastic if slightly mischievous little boy!
Toby NEILSON (1988-94) I qualified as an architect with distinction in my professional studies from the University of Westminster in September 2008. I lectured at the Symposium on European Housing at Munich Technical University in January 2008 (I was representing Peter Barber Architects – we were the only British firm invited to the Symposium!). I was project architect on the refurbishment of a flag ship Homeless Hostel in central London which has been described by Iain Wright MP (Minister for Homelessness) as the most successful hostel in Europe. It has also now been shortlisted for a civic trust award. I still live and work in London and regularly meet up with Mawgan Gyles (1985-94) for a pint and a chat.
Alastair EDMONDS (1988-1996) I am now a sales-trader at Merrill Lynch in the City.

BAZZARD family: Tom (1990-1996) is working part-time as a Graphic Designer in Battersea as well as working with the BBC on a script for a new drama, due to be broadcast at the end of the year. Ben (1989-1994) will soon be finishing Teacher Training at the University of Chichester and will become a secondary-school teacher in the coming months.
Charlie KING (1990-96) I'm currently serving in the 5th Battalion The Rifles in Iraq. I am a Platoon Commander (Captain by the time you print). We are currently aiding in the close down of British forces in Iraq and it is likely that my Battalion will be the last to withdraw. Usually based in Germany but soon to be posted to Catterick to train new recruits. Rupert Lane MC (1990-96) is serving in the 4th Battalion The Rifles in Tidworth. He is also a Platoon Commander (and Captain by the time you print).
Jey (Jeremy) HICKS (1992-97) Having completed a degree at Surrey University, I have now moved to Frankfurt am Main where I am working as a video game designer for Crytek. I consider it a great honour to work here and to have my CV chosen over the thousands of other people who applied for my job.
Gemma GUTTERIDGE (1993-98) graduated in June 2008 with a 2.1 degree in Sports Therapy from the University of Central Lancashire. As soon as she had finished her last exam she left the UK to continue her work as a ski instructor in Wanaka, New Zealand. After 5 months in Wanaka she came back to the UK briefly in October/November 2008 before departing for Calgary to work at Nakiska (the Calgary Winter Olympic venue), where she is now. Gem has specialised in teaching children to ski; at the moment the sports therapy is on hold. Richard Gutteridge (1994-2000) is in his work experience year from the University of Gloucestershire where he has completed 2 years of his 3 year Adventure Leisure Management Degree. Richard followed his sister to the Rookie Academy in Wanaka last year to gain his ski instructor qualifications. Richard is now teaching skiing at Sunpeaks resort in British Columbia, Canada. When the ski season finishes in April he is hoping to stay at Sunpeaks working with the mountain biking hiring and guiding team.
Jack BISHOP (2000-03) I left Millfield last summer and went straight to Cardiff University where I am reading Civil and Environmental Engineering and having a great time. I am playing rugby with a local club as well as with the University.
CHANDLER family: James (2001-02) is at UCL studying Law. His talent for arguing has been put to good use in University and inter-University Mooting Competitions. He is President of the UCL water polo club and has rediscovered rugby after five years of Winchester College football. He will be spending next year in France studying French law and social life (the latter on a non-curricular basis). William (2001-05) is at Winchester, where his interests in theatre and technology leave no spare time. He is currently leading the Wincoll team to build an eco-racing car for a national competition. He spends many hours in the theatre both at school and elsewhere doing lighting and sound (as well as running the school discos), and is contemplating university in the United States with a view to a career in stage or film production.
Freddie BROOK (2001-08) Freddie's mother writes: "Freddie won the lower school music competition at Dauntsey's last term with yet another rendition of Stars from Les Mis (rather like a mini X factor). He also extended his drama experiences by appearing in the upper school play of Evita last term which was a huge success. This year he will be appearing as Captain Hook in Dauntsey's 'Peter Pan' production at the end of the Spring Term. So if anybody would like to come along just let us know and we can arrange tickets for you. They are free but require a donation to charity. He is also doing magic shows for children's parties in the holidays and some weekends and close up magic at tables at charity balls/events....so spread the word! As far as his private life is concerned I have no idea, except that he needs to get a haircut! Probably safer not to know too much!"
Alverne BOLITHO (1969-74) writes:
Time can play tricks on the memory but a perfect afternoon in September 2008 proved that this was not the case for those Old Northavians who found their way back to school through the maze of Wiltshire lanes that surrounds it.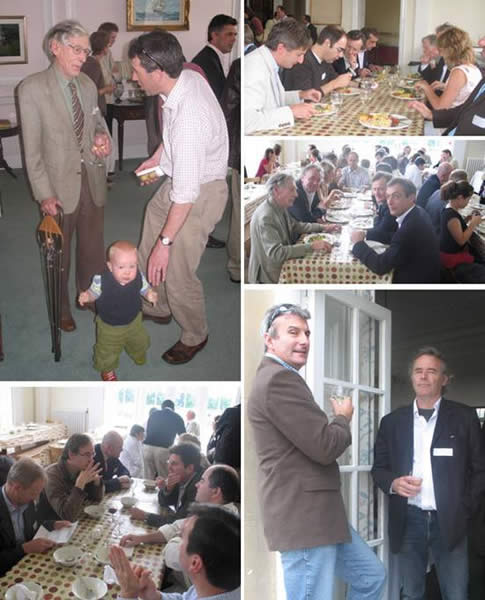 A superbly organised day saw around thirty of those of us who had been at Northaw during the 1970s relive our youth. An excellent lunch hosted by the Headmaster, Paddy Savage, found us trying to remember where the Sandwich, Dover, Rye and other Club tables used to be; sadly the Club Shields no longer hang proudly at the end of the dining room but top table remains in place.
The interior of the building has changed remarkably little, the black and white mark boards still hang at the end of the long passage and plug alley retains its own distinctive smell! A memorial plaque to Sarge hangs proudly in Chapel and an excellent picture of him hangs on the wall nearby.
The highlight, I suspect, for virtually everyone was a pilgrimage to the woods. Extraordinarily evocative, I have a sneaking suspicion that almost all of us had our happiest times constructing huts and Club camps down there and memories came flooding back as we searched out where these had been. Boiler suits were not available!
Tea back inside was followed by excellent, short and highly amusing speeches by Charles Marsden-Smedley and Chris Berthoud on behalf of their specific vintages. It was also a real pleasure to have time to talk to Billy Howard and Denis Blake who both were in great heart and looked healthy and well. One comment – how old was Stephen Plaister when we were all there? He does not look a day older now and still has the energy of a 25 year-old!
It was a real pleasure being back again at Northaw and I spent a very happy time heading home thinking about all those memories that had been bought back to life.
I heartily recommend that other such reunions take place, rounding up old pupils is not an easy task but hugely worthwhile and for all of us who were there last September our memories are now revitalised after a wander through our youth in autumn sunshine. Thank you to all concerned and good luck with the next incarnation.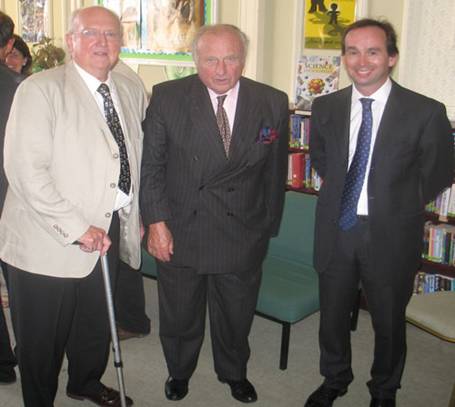 Three Heads are better than one?
Billy HOWARD (Headmaster 1961-73) In reply to your impassioned appeal for ON news, my wife and I are currently (30th January) broadening our minds in the Pacific Ocean, half way between San Francisco and Honolulu on the cruise liner Oriana. We left Southampton on 8th January; have so far visited Madeira, the Panama Canal, Acapulco (Mexico), San Francisco; and are bound for Hawaii, sundry South Pacific islands, New Zealand, Australia, Indonesia, Hong Kong, Vietnam, Thailand, Singapore, India, Egypt, Rome, Barcelona and Southampton on April Fools' Day, for which my best wishes to all our ONs and friends. Retirement has its compensations!
Ronwen WALKER (1967-70) I have recently visited 3 reunions, and despite arriving in fear and trepidation, they have all been enormous fun. It has been an amazing experience to see some of the boys I taught 35 years ago (oh and one girl!). The thing that has struck me most is how little they have changed: a sobering thought for staff! Without mentioning any names to avoid embarrassing anyone, it has been brilliant to share memories of what was an immensely happy time for most of us, wonderfully free from the restrictive pressures of education today. Playing Hare and Hounds in the woods with the boys who were 'off games' springs to mind as an example of the freedom we enjoyed, or Billy Howard (Headmaster) taking boys for rides on the tractor to go and cut down trees with his power saw. We all know that prep school is a formative time, but I think of the boy who always turned up late for my art lessons weighed down by all the rocks and stones in his pockets. At one reunion, he still had bulging pockets which produced a memento of his time at Northaw to illustrate the tribute he was giving. Another reprimanded me for giving him his only 'stripe'. He has done very well, but a wicked sense of humour is spun through his articles in a well known national newspaper. Finally, I was very touched by the beautiful poem brought to me by one boy to complete those he used to write for me all those years ago. What a privilege to have been part of the tapestry of all these exciting lives!
Matthew UNSWORTH (1991-95) I took over from Howard Warden as Head of Science in 1991, and taught at Northaw for four years. Whilst there I became master i/c Hockey, taking over from Paul Baker and also became Housemaster of Hastings.
Since Northaw I have worked my way up the ladder, being Director of Studies at Norland Place School in Holland Park, and latterly Deputy Head of Leweston Prep in Dorset. In 2006 I was appointed Headmaster of Barrow Hills School, a co-ed prep school near Godalming in Surrey. It is rather like Northaw, but without the boarding, having gone day some 15 years ago.
I no longer teach science, however I do some hockey coaching when I can. I really enjoy headship and the challenges it brings. I married an Australian, Yvette, and we have 15 month old twin boys, William and Thomas. I have kept in touch with Patrick Nobes, of A4 fame (those of you who were there will know what this means) and see him once or twice a year. I have sadly lost contact with Charlie Bonallack, and the last I heard of Simon Hill, he had returned to the country from teaching abroad. However, that was some years ago. Whilst in Dorset I bumped into James Fineman (1990-95) who was in my House, and see him and his family every now and then. I also keep in touch with Eric (the viking) Olson, and he came over two summers ago with Ingrid and Anders. We drove to Norman Court one Sunday, for a nostalgic visit. I also bumped into Steve Baybut whilst at a conference at St John's Beaumont. He looked just the same, retaining his sense of humour and sartorial style. I tried to entice Adam Williams to apply to be my deputy, but he is enjoying life teaching at Oakham School too much to consider moving down South. Anyone from my days at Northaw is welcome to contact me at Barrow Hills - it would be great to catch up.
Kevin FOYLE (Headmaster 1995-2007) I am sorry I have not put pen to paper for a while but it has been busy in Shanghai. It is time to update you on the lives of the Foyle clan.
I am changing jobs in the New Year. We are staying in Shanghai but I have been asked to take up the reins at the company's Puxi School which is just up the road from our home in Long Beach Garden Villas. It is a much bigger school with over 1,000 pupils on two campuses fifteen minutes apart. It is in need of some TLC and lifting of standards but has the potential to be a very good school and there are plans (well progressed) to acquire land adjacent to the larger of the two sites to create a very impressive unified campus with all the facilities you could hope for and expect. All in all it is a very good new challenge for 2009.
We have had a busy and very interesting year in China. We have had lots of fun with a very good group of friends who are mainly our neighbours at Long Beach Garden Villas. We have travelled and spent a good deal of time with our loved ones both here in China with the intrepid explorers and back in Europe for those who prefer staying closer to home. We are both running and playing a bit of tennis and golf. Gill is thriving and enjoying both the social life and her part time work with Gemma International and Tesco (China). Back in the UK the boys are thriving. Tom (16) did well in his GCSEs with 9 A or B grades and he has moved on to Peter Symonds College in Winchester to do his A levels (Geography, Product Design and Business Studies). Harry (12) is in his last year at Norman Court and therefore has the challenge of senior school entrance exams in the New Year. He would like to go to Hampshire Collegiate School near Romsey and he will sit their entrance exams and be assessed for a sports scholarship in January. Other senior options remain for consideration later in the year. The boys remain sports mad, both had successful cricket seasons and played and performed well for their county age group teams. Harry is again playing first team soccer and rugby at NC and was selected for the Hants Independent school U13 rep team. Tom is playing for Southampton Hockey Club and both continue to enjoy golf and tennis.
Our very dear All
Writing this on 6th January 2009, what a year 2008 has been! I won't go into details at this stage of the letter. Thanks to the glorious work and dedication of Holly Wills (née Soffe) and the gloriously re-founded Old Northavian Association, you will probably already know much of what follows: never mind – I enjoy this annual revision of what Anne and I have heard or experienced since this time last year. As usual, the names and snippets of news are completely haphazard in order – just as they come out of the files and notebook. The latter is a wonderful creation of Anne's who, to my huge advantage, has always been outstanding in making efficient lists. Well, here goes!
Jonathan Bartlett (1978-82) Jonathan has become the Headmaster of Moor Park School, Ludlow (have a look at their website!). He is the first of "my" ONs to get to the top, although I am sure that Billy Howard produced one or two. Jonathan is married, has three children and his mother still lives in Hampshire. He hears from Simon Eakin (1978-80) quite a lot but would like to re-establish contact with David Greening (1977-81), James Hastie (1977-80) and Simon Campbell (1978-82). I have, of course, got Jonathan's full address and email but I am not allowed to reveal such things these days.
Clare Exon (1982-86) Clare is married with two small children and lives in Andover. Her brother, Simon (1980-85) is a mechanical engineer and lives in Poole.
Soffe family Rosanne Pilditch (1979-84) and her husband, Justin, live in the village of West Ilsley with their terrier, Womble, and are expecting their first baby in April. Congratulations and special love! Simon (1979-87) and his wife, Alex, produced Arthur Thomas in September – a joy and delight to all the family. Many, many congratulations to them, too. Holly (1982-89) and John Wills live near Bristol and Holly is learning Mandarin.
Iain Allan (1980-84) Iain has given up his taxi business in Salisbury and has moved to London; we meet his mother, Mrs (Judy) Archer, (formerly Allan) in Salisbury from time to time.
Danny Fagan (1973-77) We got a most movingly affectionate email from Danny who recalls his time at Northaw with genuine pleasure. It was the sort of email that makes one's career worthwhile.
Badham family You may remember my constant plea for an old London Underground station sign for "Blake Hall", on the Epping and Ongar line? Well, Harry Badham (1984-90) has a friend who owns the original Blake Hall and may be able to help! What a joy that would be, especially if the school would agree to putting it up somewhere in the Hall at Norman Court! Harry and his wife, Vicki, have two children. Richard (1983-87) and his wife, Annette, now have two and Timmy (1989-92) is on the verge of adding another sister-in-law. The Badham parents are still in good form and thinking of adding on to their home, in order to accommodate the grandchildren, whom they greatly enjoy – so Harry tells me, and I have no reason to doubt him.
Duncan Craig (1983-89) Duncan will soon be married to Eileen – I spotted their engagement in the Telegraph. Congratulations from all the Family! Duncan is the Deputy Travel Editor of the Daily Express. Matt (1983-88) is still with Cranfield Mine Action / Disaster Relief. He and Becks are expecting their second baby in March.
Catriona Sempala-Ntege née McKeown (1979-87) Catriona and Nathan (in the Army and Germany, when not in the Middle East somewhere!) have four children called Noah, Lydia, Joel and Miriam – all lovely Biblical names. They are all well.
Simon Plummer (1986-91) Simon is happily living and working in Stroud as a software developer. His wife, Hannah, is expecting their first baby in May. Hooray, indeed!
Kenyon family James (1986-91) who now works in London, turned 30 in 2008 and has become godfather to Simon Soffe's first-born. Sian (1984-88) continues to 'fizz' and spread happiness wherever she goes. Amy (1984-89) now Mrs Rafferty, continues in her career, winning awards and promotions. This has largely been a quotation from Mum's Christmas card to us but it all adds up to a great year for the Kenyons. Well done.
Philip Ayliffe-Jones (1979-84) Philip is in Brisbane, wither his mother has now moved from West Dean, and is married to Sharon, with children Bryn and Niall. Philip may soon be building a swimming pool, which I gather is eagerly awaited by all.
Lucy Smith née Baines (1979-81) Dr Lucy now lives in Cheam with her husband, Graham, also a doctor, and their three boys: Samuel, Patrick and Edward. There was a super photograph of the boys inside Lucy's Christmas card to us.
Halsey family Joanna Lewis (1983-86) her husband, John, and their children, Alex and Oliver, spent Christmas in Australia. Katie (1984-87) lives with Luke in Glasgow and goes to London once a month. Luke is a lecturer in Classics at Glasgow University. (Family note: my father was a B.Sc. in Engineering from Glasgow and was always terribly proud of that).
Nick Grant (1985-89) Nick has now got a year off to go and help Save the Children internationally, but doesn't yet know in which countries. No news of Joey (1985-89) or Tom (1985-93).
Sarah Krasun (1982-90) Sarah had a daughter on 13th September 2008. More than that I don't know.
Fuller family Rollo (1976-81) has a son, Alexander and a daughter, Tallulah. Hugo (1978-83) has two daughters, Lily and Violet.
Harward family Toby (1977-79) his wife, Nada, and their daughter, live in Lebanon, working for the United Nations. Barnaby (1977-79) and his wife, Anna, live in Warsaw where he works for Cameron McKenna, a law firm.
Phillips family Paul (1984-89) is still with Deutsche Bank and his sister, Joanna Royle (1986-89) tells us that his wife, Sophie, presented him with a second daughter in August 2008. Joanna and her husband, James, live in Worcester with Joshua (3) and Bella (1). She has returned to work – about one day a week, for now.
Tamara Thom née Pearson (1979-81) Tamara and her husband lead a very happy and busy life. They seem to buzz off to the Bahamas more often than somewhat with their children Victoria, Patrick and Gina.
Waterhouse family Tessa John (1987-92) and her husband, Owain, had a son in November (on Armistice Day), thus creating numerous great-grandparents, grandparents and a galaxy of aunts. The hero of the hour was / is Alfie Idris John! Charlotte (1985-90) has left her post as Head of Science at St Saviour's & St Olave's to enrol on a Future Leaders course. After a spell at Mossbourne Community Academy, the first in east London, she starts at the Westminster Academy in January 2009. As I type, Charlotte has been "back at school" for a few days already. Congratulations on a super post!
Firebrace family The year 2008 ended in utter tragedy for this lovely family. Mary Firebrace, famously energetic mother of Ma, Mi and Min, died on 13th December. Our prayers and our thoughts winged their way to the Right Place and it seemed as if half of Northaw was at her Thanksgiving Service on the 23rd. The only plus to emerge from the saddest of occasions was the chance to see and hear about so many of "our children" – yes, we still think of you as that. James (1982-86) and his wife live in London and are expecting their first baby in the spring. Charles (1983-88) and his wife KC live on the edge of London and have two girls and a boy. Patrick (Pax – 1983-88) and his wife live near Bristol and they have three boys.
At this sad occasion we also met up with:
Kate Harvey née Norbury (1984-87) Kate now lives in or near Cosham and her sons go to the Pilgrims' School Pre-Prep in Winchester. She is a physiotherapist and her husband, Jason, is a Consultant Surgeon. Her brother Charles Norbury (1984-89) lives in Sweden.
Katie Williams née Edge (1983-89) Katie, my last Head Girl, came up to us carrying her utterly gorgeous baby girl who clearly thought I was the funniest thing she'd ever seen – anyway, I got lovely smiles from mother and daughter! Katie has a super husband who has already taken her back to let her have a look at the "old place". Katie also told me that Randall Gordon-Duff (1983-86) was married just before Christmas. Her brother Titus Edge (1980-86) is teaching History at Dulwich College. He and his wife have three children.
We spoke to Janet Towers (formerly Gane) and to Michael Towers. Their respective sons, Richard Gane (1982-88) and William Towers (1983-89) are both happy and well.
Blake family David (1973-79) is still with the Wiltshire County Council, caring, from his Cranborne office, for the AONB of Cranborne Chase and the West Wiltshire Downs. Helen is a very senior prep school Headmaster's wife at St Neot's, Eversley. Robert is Headmaster of Peponi House prep school in Nairobi. Angela is Assistant Professor of History at Ryerson University, Toronto. Anne and I are still here in Charlton All Saints, where Anne has had to spend far too much time looking after me; I have been in hospital three times in the last ten months and am due in again later in January. It's a plumbing job, actually! At least I am still alive, in spite of a scare in November, when the death of a Denis Blake was announced in the Telegraph. The poor man came from Landford, not far from here, and his funeral directors were in Romsey, so a minor panic ensued with the school being rung up for information by a lot of people. The funeral was actually attended, for the nicest possible reason, by one member of the Governing Body who had been on the Board during my time as Headmaster. He was puzzled and grieved that he appeared to be the only representative from Northaw. Anne received one letter of condolence which contained some rather nice words: I was deeply flattered! Naturally, I rang up the writer so as to reassure him whence I was calling!
That's all for this year. God bless you all.
Denis and Anne
Please see below
Weddings at Norman Court have taken place in an ad-hoc way in the past. However, the school is such a beautiful venue that Mrs Jules Barons has now taken on the role of promoting weddings, functions and corporate events. Obviously, ONs would be entitled to a discount on any standard function rates and where better to get married, celebrate a big birthday, christening or run a corporate event than Norman Court?
Call now for more information - Discounts for Old Northavians
Tel: 01980 862345
e-mail: office@normancourt.co.uk