-----------------------------------------------------------------------------------------
It is astonishing to think that this is the fifth annual Newsletter produced since the reinvigoration of the ONA in 2003. Please take the time to read all of it as I believe it is one of the best. My thanks go to Holly Wills (née Soffe) who has stepped into the role of Editor (or Editrix, if one is to be strictly accurate!) following the retirement of Jalal Janmohamed. Many thanks to him, too, for producing three editions, packed with interesting reminiscences and news, since 2005.
As you will see, I have now returned to my former role of Chairman, having swapped places again with Bryan Gordon-Smith. My thanks to Bryan for steering the Association so capably over the last year and for returning, with only mild reticence, as our Hon Secretary.
And I must thank Richard Faber for his energy and commitment in representing the Surrenden Dering (and earlier) era on the Committee. He has now stepped down and has been replaced by Chris Grove (1950-54) – known to many of his contemporaries as "Topper". Welcome to Chris and welcome, also, to Sam Hollas (1995-2000) who have both joined the Committee this year.
Since the 2007 Newsletter was published, the School has lost one Headmaster and gained another! Kevin Foyle is now running the British School in Shanghai and has sent us his news which you will find towards the end of this document. Paddy Savage joined Norman Court in September and has already met many of you. He, too, has written a few words (below) and I can only echo his open invitation to you all.
The ONA website (of which you almost certainly must be aware, if you are reading these words!) has become a lot more sophisticated since this time last year. All those for whom we have email addresses have now been issued with passwords and many of you have used them to update your details on the List of Members page. I cannot emphasise strongly enough that one of the principal functions of the ONA is to provide the means for Old Northavians to keep in touch with each other. We cannot release your details without your permission. Please, please, visit the List of Members page and complete the registration process. If you have forgotten, or lost your password, the system will send you a reminder.
Talking of loss – we have also created a page for "Lost" members – this lists all ON's for whom we do not have up to date contact details (by which I mainly mean email addresses). Please have a look at the names on the list and, if you know the whereabouts of anyone listed there, either tell me and I will contact them or, if you prefer, tell them of our existence and ask that they visit, and register on, the website.
We are planning to organise a reunion during September this year for any and everybody who was at Northaw during the 1970s – this means the entire decade and we hope will include those who left at the end of the spring term in 1970 as well as those who arrived in the autumn term of 1979. And everyone in between! Further details appear below and there will also be a separate mailing in due course. It should be a terrific day, particularly if the weather is on our side, and I hope that as many of you as possible will clear your diaries and attend. The more of you joining us, the more fun it will be! Naturally, those who were at Northaw / Norman Court in other years are most welcome as well, but they may not find as many familiar faces!
In this edition, you will find a short Obituary section with articles on J Thomson, Fred Picton-Turbervill and Jack Croft, all of whom have died this year. Our sympathies are extended to all their families at this time.
Finally, I have recently discovered in some family papers, letters from a cousin written to his grandfather (my great grandfather) in March 1920 while he was at school at "Northaw Place", near Potters Bar. It paints an interesting picture of Northaw in those days: "We have got mumps and measles in the school now, and all the boys have gone home except twelve, and six of them are ill (and six well). We are having a week extra at the end of term, because of the boys that went home, so we stay at school for Easter." It is hard to imagine such a change to the school timetable being tolerated by anyone today!
With best wishes for 2008.
Anthony Whitaker
-----------------------------------------------------------------------------------------
Dear ONs,
There are just three subjects which I would like to share with you.
First, Suzie and I, and our three children (all very proud Northavians) have enjoyed the warmest of welcomes here at Norman Court. This speaks volumes for the sort of school that Norman Court is and was captured in the outstanding ISI report which the school enjoyed in March 2007. Go to the ISI website if you wish to read more about the many strengths of your former school.
Above all, the school is an enormously happy and positive place in which to work and live. Arguably, this is best demonstrated by the eight scholarships won by pupils this year to their senior schools.
Secondly, 'The Way Forward', our development programme, is well underway. The children are already enjoying the use of a second ICT suite. Work is nearing completion on a new changing room facility for the boys and girls in what was the old maintenance building. Thereafter, work will begin on giving the Music Department a 50% increase in space, in addition to their own specialist rooms.
Thirdly, you are very welcome to come back and visit the school. Please ring the School Office to make an appointment. You may well recognise Sue King's voice on the end of the telephone – we have recently celebrated Sue's 20 years of loyal and dedicated service to the school.
If you were at Northaw in the 1970's, you are warmly invited to come back to the school on Saturday 13th September, to lunch and then to watch the 1st XI football team in action. Further details are to be found on the Events page of the ONA website.
I very much look forward to seeing you here.
Paddy Savage
-----------------------------------------------------------------------------------------

Saturday 30th June 2007 wasn't quite the day that we all had in mind when it was first planned. Who could have anticipated the truly appalling weather? School Sports Days do not, sadly, lend themselves to monsoon conditions and so the decision was taken to postpone the Sports and hope that enough brave souls would persevere through the rain to join us.

In the end, we were not disappointed as well over 40 Old Northavians from the 1940s through to the current era made it. Nearly 20 former members of Staff were also on hand to join in the reminiscing (and enjoy the excellent lunch provided by the Norman Court catering department).

The majority of ONs present were from the Foyle era, as expected, since one of the main purposes of the day was to enable them to come and say goodbye to Kevin before he took up his new post in the Far East. The presentation to him of an album of photographs and memories of the school contributed by recent Old Northavians, allowed Jules Baron, the Parent Governor who had masterminded the book, to say a few suitable words of thanks for all that Kevin has done for the current generation of Northavians (old or otherwise).
-----------------------------------------------------------------------------------------
Early Warning Notice: Saturday 13th September 2008
Following the successes of the 1968 1st XI Reunion in 2006 and last year's event to mark Kevin Foyle's departure, this year's reunion is once again adopting a theme, focussing on 'the Disco / Punk Decade'. Come to the Great Seventies Reunion at Norman Court!
If you were at Northaw in the 1970's you'll want to join us!


We are busy tracking down all those with whom we've lost touch.
The more we can persuade to join us, the more old friendships can be renewed.
Former teachers – we hope to find them too!
Denis and Anne Blake will, we hope, be our "Star Guests"!
Further details will follow in due course but please put the date in your diary!
Lunch will be provided and current school teams will be playing.

If you weren't at Northaw / Norman Court during the 70s, you are still most welcome, but there is the risk that you won't know anyone!!
Please indicate your possible interest in this event by emailing Sue King – office@normancourt.co.uk
J Thomson
J Thomson, the wife of Richard 'Tommy' Thomson, died on Sunday 9th March 2008 at home on the Isle of Wight, aged 91. Tommy and J came to Northaw in the Spring term of 1956. Tommy became Assistant Headmaster in the Summer term of 1966 and J joined the ranks of the matrons in the Spring of 1967, becoming the Head Matron two years later.
Throughout their time at Northaw both Tommy and J were much loved as part of the fabric of the school and many ONs have kept in touch with them since they retired to their home on Institute Hill (not Institution Hill, as Tommy is always keen to point out) on the Isle of Wight.
Billy Howard, Headmaster 1961-1973 writes: Northaw in the 1960s and 1970s was the sort of school which, sadly, hardly exists now: all boys, all boarders (none of your skiving off home every other weekend!), all aged 8-13. It was a way of life that has passed right out of fashion, and its success depended largely on the Headmaster's wife and the matrons, who became surrogate mothers for so many boys for two thirds of each year. No one filled this important role better than J Thomson, Head Matron for many years, always full of good cheer, common sense, kindness, and well-disguised, no-nonsense, caring love for her boys.
J was unwilling to commit herself to such a full-time responsibility for the first few times that she was offered the job, preferring to devote most of her time to looking after Tommy and their son, Anthony, while serving the School whenever needed as chauffeuse to any boys who needed to be taken to airport, station, hospital, the doctor, dentist, educational psychologist, or to the nuns in Salisbury for Roman Catholic instruction. She still managed to get to know many of the boys, and to make even a visit to the dentist something of a treat.
Liz and I tried several times to persuade J to become Head Matron when that important post fell vacant, and were delighted when she at last agreed to take on the responsibility of caring for all the children, no mean task, with doctor and hospital ten miles away, and home and mother for most boys even more distant. She quickly proved her hesitation to take on this vital job to be entirely unfounded, and established herself as a key figure in the lives of the boys (and later on, girls), respected, trusted and loved by all, until the time came for her to accompany Tommy into retirement in the Isle of Wight, where she died in March this year. She will be remembered with great affection by the many children to whom she gave happiness and security in their young lives, and by her colleagues on the Staff, all of whom benefited from J's warmth of personality, humour and common sense. Our deep sympathy goes out to Tommy.

Dariush Bakhtiar writes: Not only were Tommy and J my teacher and matron, but they were also my guardians during many holidays when my family was unable to come to Northaw, such as half term and other short holidays. I stayed in their cottage many times. J provided the (firm) love that we all needed as little boys, giving us what we all missed from our mothers, while being away from our own families at Northaw for many months at a time. They both treated me as if I were their own son. My brother Eskandar and I have kept in touch with Tommy and J over the years. I last visited them on the Isle of Wight in the 1990's. Tommy and J were very important people in my early life and I shall miss J very much indeed.
-----------------------------------------------------------------------------------------
Vivian 'Fred' Picton-Turbervill
Charlie Thomas has compiled this report: Most of you will now have heard the news of the death of Fred Picton-Turbervill (1969-74) at the beginning of this year, at the age of 46. Fred was murdered, in front of his family, at their home in Pretoria, South Africa. Although few of his contemporaries had remained in touch with him since he left Northaw, it was clear from the flood of emails that he was very fondly remembered.

Typical of them was this from Julian Johnsen: 'Fred was the best sportsman in the school, but at the same time so incredibly modest, down to earth and kind. I remember roller-skating once and falling over and cutting my knee. Fred came and helped me up, put his arm round me and took me to Mrs T in the surgery. I was just a little squit, but he had time to help. I'll always remember that.'

His sporting prowess was, needless to say, what most people recalled about him. Billy Howard, who was Headmaster for his first three years, remembered him as 'a delightful, lively, sporty young fellow, and I am sure he grew up into an equally charming man, though I do not remember meeting him again after I left Northaw. All our hearts must go out to his family at this sad time.'

And Don Capes, who taught mathematics and coached football with equal ebullience, recalled his 'prowess as goalkeeper of the first XI. He was a member of a very successful team who had several excellent seasons. I believe he went on to play in goal for the XI at Milton Abbey. What a dreadful senseless waste. I remember Fred as a very pleasant, outgoing boy who entered into everything.'

A fellow member of that first XI was William Casement (a nifty winger as I recall). William remembered his 'fearsome opening bowling and orange goalkeeping jersey in our wonderful (unbeaten) 1st XI football. Sound man, made me wish I was Welsh, and not because they were winning all the Rugby matches. The fact that his name was Vivian and nobody thought to make fun of it speaks volumes from boys of that age.'

As Don Capes correctly mentions, Fred did go on to Milton Abbey, along with fellow ON Andrew Elliott. Often it is the most obscure incident that one remembers from those days, as Andrew demonstrates: 'An early memory is of him sitting above the blackboard in the second form room down the long corridor. I can't recall why he was up there, but he fell off wounding the back of his knee - I suppose that must have been in about 1971. I always found Fred to be friendly and generous.'

Those last sentiments are echoed by Chris Martin. 'I hadn't seen Fred since school, so my memories are obviously from a while ago. However, living in a little place like Northaw gives you a sense of a person, and I'm sure that the qualities I remember were present throughout his life. I recall someone who was good-natured and decent, somebody who was fun, capable and could be relied on to do the task he'd been set. I also think of him as being sensible, as opposed to silly. It's perfectly acceptable to be 'silly' at that age - and by 'sensible' I don't mean that he was serious - but it seemed that he had a sense of purpose. My thoughts go to Fred's friends and family. How sad.'

Christian Seely sent this: 'I saw Fred only once after Northaw, about 20 years ago, at a weekend party in Monaco, where we had a very good time and he was as jolly as ever. My thoughts, like everyone's are with his family. That joie de vivre and easy going nature was also remembered by Piers Lea, who said he was 'one of the most genial people you could hope to meet (and a fearsome fast bowler),' while Alverne Bolitho remembered Fred as being 'tall, stick-like, all legs and great fun.'

From a personal point of view, my clearest memory comes from our final year together when we were both competing to become captain of the first XI cricket team. Although I was given the job for the first half of the term, sense soon prevailed and Fred, being a far more accomplished all rounder, was handed the reigns for the rest of the summer. It says much for his character that I felt absolutely no jealousy or ill will towards him when relieved of my duties.

But perhaps the last word should go to Alex 'Beetle' Clay, who was his step-brother and is thus able to sum up the feelings of his family.

'This grim event has hit us all. One always thinks of this sort of thing happening to other people, and it is an awful shock to realise that, sometimes, "other people" includes oneself. Fred was a very popular chap and lived his life, whether social, sporting or business, to the full. Sadly, from my point of view, he left for South Africa about 5 years ago, which obviously put limitations on our contact. Prior to that, we had been very close. It is always comforting to know that there is someone who will laugh at your jokes, regardless of how bad they may be. It always seems better than being the only person to laugh!

But that is probably the way I shall remember him; always enjoying life and the people around him. Laughing whenever possible, usually at some highly inappropriate time, which seemed to make things even funnier (as they do).

Thank you, again, for your sympathies, which I have passed on to his mother, my step-mother.'
Jack Croft
It was reported in the Salisbury Journal in January 2008 that Jack had drowned (aged 30) after accidentally falling into the River Avon. Following his three years at Northaw (1983-86) he went on to Embley Park (along with Thomas Moody and Paul Hazell). He is remembered fondly by old school friends as being lively, adventurous and always game for a laugh. Our thoughts are with his family at this difficult time.
-----------------------------------------------------------------------------------------

The Old Northavian Association would like to congratulate Lieutenant Rupert Lane MC The Rifles who attended Northaw / Norman Court School from 1990 to 1996 who has been awarded the Military Cross for bravery in Iraq on 25th May 2007.
Lt Lane's 24-man platoon was at the centre of the heaviest battle in Basra since 2003. According to the citation, during the ferocious 4½ hour battle Lt Lane moved from position to position in the face of the enemy, exercising decisive command, controlling fire, re-deploying his sections and organising casualty evacuation. His personal example of courage and inspiring leadership enabled his platoon to prevent a decisive enemy victory that would have had far reaching impact on the UK's Iraq campaign.
-----------------------------------------------------------------------------------------
Ian Stewart-Hargreaves (1945-51) My first term was at Loton Park, of which I have strange memories. In a small room behind the stage, the 6th form held a court. Their favourite thing was wrapping us in an eiderdown and placing us between the inner and outer door. I remember on a walk, one of us found a golden half-sovereign. The classroom was in a large room - the auditorium of the theatre - that was partitioned off by screens. I remember paying greater attention to other lessons than to my own.

Living then in Radnor, the trip down to Pluckley was an adventure. During the war, the house had been commandeered by the Army (?). I remember the wonderful murals on the walls of the Gym that were soon painted over. Beyond the tennis court was a large open area, where military manoeuvres had been held and where we collected spent shell cases and buttons. My most treasured find was a bayonet that ended its days as a poker.

In my mind's eye, I can still see the huge Cedar, the Tulip Tree and the Wisteria. Without a doubt for me, the year's highlight was the Fête, which was, also, something of a torture, since we did not have the money to buy the wonderful cakes and biscuits. For parents, I imagine that the annual show put on at the end of the Christmas term was the event of the year.

I remember the competition that there was to have the largest collection of butterflies or birds' eggs. We must have been responsible for much destruction but, at the time, I had great fun and particularly enjoyed roaming the park and beyond.

Afterwards? Ten years in the Royal Navy doing Boy Scout stuff, training for the priesthood, parochial work and teaching, early retirement. The last twenty years have been varied. Mostly in Scotland but also in Spain and Denmark and in Germany, researching the Celtic homeland. In Spain, making pilgrimages to Santiago de Compostela and running pilgrims' hostels. In Denmark, researching and writing. My return to Scotland was a journey through all the islands - five months - by bicycle and tent looking at early church sites. I was particularly looking for pre-Christian sites that had been 'christened', of which I found a surprisingly large number. Now, by accident, I am a silversmith. In Germany, I had my kilt stolen and when I returned I bought the Long Plaid, which needed a penannular brooch. An Edinburgh firm wanted between £250 and £300 to make me one, so I took a lump of silver in one hand and a hammer in the other and made one, which was so liked that I made another six. Galleries offered to sell them for me and so I became a silversmith in my old age and am enjoying the experience. My website is www.creaganan.com

My very best wishes to you all and especially to those by whom I am remembered.
Michael Matthews (1951-53) Memories of the fire: I was housed in a small dormitory up in the eves of the house. I shared with Thwaites, Snow and a couple of other boys. We had practiced on the escape rope but it wasn't needed. I remember being herded down to the courtyard with a scant few belongings in a pillow case. For some reason I remember a teddy bear being saved. There was certainly no panic nor joyous cheering as the place went up in smoke - that only happens in St Trinian's films. I also remember the train journey to London and being met on the platform by my very regal grandmother and being taken immediately to Harrods to be recoated and at the same time being rewarded for my bravery with two pet mice which I named Vest and Pants. They eventually ate each other as, when the novelty of owning them wore off, I forgot to feed them. Incidentally, the arrival on the platform in London was photographed for posterity by the Evening Standard. Possibly their archives still have a copy?
Now, Norman Court was a different story. That damn cricket ground was built by the back- breaking labour of 80 boys with buckets, collecting stones. The collection of stones was not originally a punishment detail and only became so later, as the stone count diminished and they were harder to find. I remember there was a ha-ha between the lawn in front of the building and the cricket ground. At the base of the ha-ha we had gardens where I was successful in growing radishes which proved a wonderful supplement to the horse flesh served as our protein once a week.
Monty visited the school on occasions, one time bringing a huge chocolate bear which had been presented to him by the people of Bern in Switzerland. We had never had chocolate as rationing was still on. I have a picture of me boxing a boy called Schmidt with the Field Marshall looking on, sadly no bear in sight and the result of the match unknown. Major Tom Reynolds was a wonderful man and Miss Warner remains in memory. Somewhere along the way I collected a medal from "The Royal School of Church Music" and since I can't sing a note have always wondered how I qualified. Mr Ruscoe Eady was the choir master and we did do a production of HMS Pinafore. We also had a film star in our midst Bobby Henrey (1951-52) star of The Fallen Idol. We all watched the film which then, like Bobby, vanished into obscurity.
Jeremy Cripps (1951-56) I am currently (March 2008) in Serbia where I am visiting to help the Serbian Securities Exchange Commission determine their regulations for valuation. Valuation has been an interest of mine and proved to lead to travel to Jordan and Morocco as well as Eastern Europe as they all gradually join the western lifestyle. I very much enjoyed the reunion last year in spite of the weather. My daughter Lynne joined me and got to know a little better how her Father was educated. I am still Head of the Business & Economics Division at the American University of Kuwait and any Northavian on business in Kuwait is encouraged to give me a call. One reminiscence that comes to mind is the old tuck boxes we used to have in the basement. Do these still exist or are they a feature of times past? And if so, are you thinking of a museum of past practices now out of date?
Nigel Williamson (1955-61) Just a brief update to say that I live in North Hampshire with my wife of 34 years, Pam. Our two children have their own lives away from home so travel now dominates our spare time; however, they still join us with their respective partners for a week's holiday every year. I was very sorry to hear of the death of Mrs T. Thank you for keeping us informed. I have good memories of Tommy, Stephen Plaister, Peter Adams, Miss Breen and good old Sarge!!
Harley Nott (1956-61) After 10 years in the Army (Captain - Royal Engineers), 10 years with De Beers (mainly in Africa) and 10 years with adventure travel company Explore Worldwide I am now running my own business (Coach House Rentals) providing short (holiday) lets in London, Paris and (in the process of being started) New York.
From both the guests and owners point of view it's home exchange without the home exchange! So if you live in London, Paris or New York and are regularly out of town for 3 weeks or more, or have an under-used pied-à-terre, you could be earning extra income while you're away. Full details via www.chsrentals.com
I live in south London and have been married to Meena for 32 years. We have two children – James (31) running his own IT support business in Bristol and Joanna (28) who is a doctor currently working in Zimbabwe and who was married last September.
Christopher Joll (1957-62) My only news of any import is that, following on from the success of the Household Cavalry Pageant (which I wrote, produced and directed) which was held on Horse Guards Parade, London last June in front of The Queen, I am this June producing an historical Pageant at the Royal Hospital Chelsea, in aid of the Chelsea Pensioners Appeal, in the presence of HRH Princess Alexandra - and I have been asked to produce a Pageant in 2009, again on Horse Guards Parade, but this time for the Army Benevolent Fund.
Martin Taylor (1957-61) My uncle, Dennis Lowndes Flower CBE, DL died on 8th May 2003 having lived here at Ilmington Manor since 1919. He was born on 31st May 1915 and was at the old Northaw near Potters Bar. He was one of the first pupils at Stowe and won the Victor Ludorum Prize for all round achievement. He went on to Clare College, Cambridge (following in his father's footsteps) where he gained a degree in Physics, Chemistry and Physiology. He was captured at St Valery in the war and spent 5 years in the bag in Germany. He wrote some fascinating and amusing diaries of his and his fellow officers' time in Poland and Germany. After the war he ran the property here and took a leading role in village affairs, was Managing Director and, for a while, Chairman of the family brewery, Flowers, in Stratford upon Avon. He was for many years Chairman of the Shakespeare Birthplace Trust and deputy chairman of the Royal Shakespeare Theatre. He was also involved in many local charities and served as High Sheriff of Warwickshire in 1982. He was a Deputy Lieutenant for the county and made a CBE for all his work for the county and good causes. A very popular, kind, wise, humorous and generous man loved by all who knew him.
Angus Macconochie (1959-61) I have read in the ON news that quite a few have been to New Zealand and I am always available to help anyone with information on NZ and, of course, my door is always open for anyone to stay. I am one hour north of Auckland so can pick anyone up at the airport if that helps. It really would be great to hear from any older ONs or from any who have left recently and are on their "big overseas experience". It is difficult to put down what I have been up to since I left Northaw, but not really having been the brightest pupil in my time or since, I just took the World by the horns and went for it, and what a ride! Too much to mention really but I have travelled to about 30 or 40 countries. I have lived and worked in Kenya, where I was a safari guide, driving through the vast expanse of the country, setting up camp sites and generally keeping people safe and happy. What a great life that was but I was working without a work permit, driving without a driving licence etc but an experience not to be missed! On my return to the UK I became a game warden at Longleat Safari Park and looked after 32 beautiful lions. My parents went out to NZ to retire and my sister had married a Kiwi so I came out to pursue the great love of my life, that being film making and television. I joined Television New Zealand and had the most amazing career for 24 years. After this I moved north for the countryside, surf beaches, and the good life, as they call it! Names I do remember well include Andrew Duncan (1958-63), John Foster (1956-61), and many of the names in the last newsletter. There really is so much to talk about re the old days, and the really good mates I had at Northaw and I would love to hear from anyone there during my time.
Edward Bolitho (1963-68) has been appointed to be one of Her Majesty's Body Guard of the Honourable Corps of Gentlemen at Arms which, he says, provides him (and others) with the opportunity to continue to dress up in uniform for the pleasure of their wives…..
Philip Shaw- Hamilton (1964-65) Just a quick update on the last 40 years - not! I did enjoy seeing the pictures of the 1968 football team before and after and remember many with fond memories. I saw a picture of Pierre Condou (1964-69) - I remember roller-skating in the yard and there was a Condou (Antony? – 1961-66) who was the fastest and best in the school. Northaw was the inspiration for my squash and tennis career (amateur). I remember having to sweep the dead leaves off the squash court, and playing tennis on that awful tarmac court where we spent more time fetching balls from outside the court - but maybe that's a reflection on my own poor standard. Things have improved since. Anyone play real tennis? I took it up at the age of forty and can now boast some trophies in the cupboard - British Amateur over-50's singles and doubles in 2003, 2004, and World Amateur over-50 singles in 2004. I am off to New York in April with the GB over-50 squad to play the Americans and Australians. Life begins at 50 - but actually I am now looking forward to trying for the world over-60's title! There's nothing like being the new boy on the block!

David Thomas (1967-71) Clearing out my office the other day, I came across a copy of Northaw Miscellany, the old school magazine, dated September 1969. On the cover, in my childish, rounded script, was written the warning, "Positively trash! Dangerous to eyes!" Inside, on pages composed on a basic manual typewriter, were sports reports, in which my name signally fails to feature, news of old boys at assorted public schools, and pictures of boys and parents. All the fathers look impossibly old and stuffy, by our 21st century standards - the Sixties had certainly not swung in the direction of West Tytherley – but the boys are fundamentally no different from my nine year-old son and his prep-school friends today.

My only contribution to the Miscellany, credited to 'D.W.P. Thomas - 10 yrs, 2 mths,' was a short story, 'The Bridge Across the Cut,' a tale of naughty boys stealing planks from a game-keeper's hut. It's not bad, but far better is the story beneath, a lengthy thriller called The Spanish Smuggler, by J.R.Burt – 10 yrs, 9 mths. Here's a page-turner that has everything: a glamorous backdrop that shifts from the Swiss Alps to Madrid, bad guys demanding a 20 million franc ransom, even 'an indescribably beautiful woman in a pair of slacks and a pink jersey,' to whom the hero – no gentleman, clearly – delivers 'a stunning blow' in the final paragraph. Almost 40 years on, I now have a late-blooming career as a thriller-writer, under the pseudonym Tom Cain. Tom's debut novel The Accident Man was published last year. It hit the Top 20 best-sellers in the UK, has been translated into 15 languages and Paramount have bought the movie-rights. But it's really not a patch on The Spanish Smuggler.
Charlie Bryant (1969-72) My news is as follows: since I left Northaw I went to Warminster School, where I got almost no academic results, since I was not very clever. The only thing that really interested me was doing School plays. Thus, I helped run the theatre in town and did the lighting for all the rep companies that played and I can say that I met some famous people. When I left Warminster I did a theatre electrician's course in London, worked in the West End and toured into my 40's with groups like Pink Floyd and Genesis.
Don and Mary Capes (1970-99) Mary writes: We are both well and living in a beautiful part of Worcestershire, Bewdley, on the River Severn which keeps flooding. Fortunately, so far it hasn't reached us but we are only about 300 metres from the river. We spend a lot of our time walking in the beautiful Wyre Forest and the Severn Valley, or in my case nowadays, strolling! However, Don still gets lots of walks in. We holiday at various times of the year in Wales, Portugal and France not forgetting England, usually Dorset or Norfolk. We are planning a camping trip to the IOW in April weather permitting! We heard from several ON's when we retired and would be delighted to hear from any who remember us, via email or ordinary mail. Our details are registered on the List of Members page of the website. We think fondly of the musical evenings in the hall before the fire, the Sports Days, the Hikes and youth hostelling and the football, rugger and cricket not to mention the athletics, and of the many pupils and staff who made Northaw such a happy environment - most of the time!! Best wishes to all.
Chris Berthoud (1975-79) Northaw taught me a lot. After a group of us boys took it in turns to be shut inside a tuck box, with further tuck boxes piled on top, I learned without a shadow of doubt that I was deeply claustrophobic. I also learned that I was not one of life's adrenalin junkies: I was quite happy to watch Piers Pisani (1974-?) climb to the top of unfeasibly tall trees and more often than not, fall off. I didn't see the need to take the risk myself.
I learned something about crime and punishment: the sense of injustice at being given the slipper for what was in my view a fairly innocuous canter across three beds in a dorm remains with me to this day. But, intellectually, realising the Headmaster probably had a point. I also learned that there is surely no greater fun in life than sliding naked across a wet floor at top speed near the footbaths. Except perhaps a game we played at Eton involving the blown-up inside bladder of a football being smashed around a small room with rolled-up newspapers. But that's another school and another story.
What Northaw didn't do was give me any inkling of the fact that I'd now be working for the BBC in the "multi-media" world in charge of websites and such things for programmes like Newsnight, Today, Panorama etc. The nearest I came to multi-media at Northaw was sitting in the library with my two brothers reading the weekly letter from my parents. I dare say nowadays Northaw children all have Facebook accounts and there are probably strict rules about when you can use your mobile. I can't actually remember there being a single phone at Northaw, except in the Headmaster's study.
But I think one piece of learning, strangely (apart from an odd ability still - for some reason - to be able to quote a line or two of Oedipus in Greek), has stood me in good stead for later life. I remember once we were asked to prepare a short essay about "school". I'm no comedian, but I remember delivering a line to the class saying something like: "We're told that schooldays are the happiest days of your life …" I didn't need to add anything, but I just paused with what I thought was probably dramatic irony, and looked around. The children laughed. The teacher laughed. And I realised that you could convey almost any sentiment – even unpopular ones – if delivered with humour, and a bit of subtlety. This is also useful at the BBC.
I worked with John Peel on the BBC Radio 4 programme, Home Truths, for some years. I think he must have learned a similar thing in his youth, as this thread of humour was a key element of the programme. And when I first met him, I could immediately see how the one person could be both the music legend who we all used to listen to late at night with the radio under the sheets, and the witty Radio 4 type. It was that same attitude, and ability to frame things with good humour. I miss him.
But I must dash – got to get back to Facebook and my mobile. And by the way - my school days were happy!
James Hastie (1977-80) I just wanted to keep you updated on a change in my position at Christie's. I'm now Head of Russian Art in our New York office and spend most of my time in airport lounges - I'm writing this at Helsinki airport. I'm looking forward to seeing the updates in April as I have truly fond memories of Northaw.
Tim Morley (1977-85) I do have some news - I have just got engaged! I will be marrying Nathalie Leon, who is French, and we will continue to live in Juan Les Pins in the South of France. The attached picture was taken just after she said "oui". My company, Morley Yachts, is now reaching the end of its third year in business. As of April this year, people will be able to find me in a new office in Antibes, near the port and the 'Blue Lady' Pub!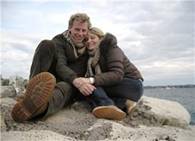 Richard Jackaman (1979-83) I was involved in a panto (Goldilocks & Her Big Top) in December 2007 which had 6 performances and was held at the Hammersmith Town Hall. Two years ago I changed jobs and I am now a surveyor working for a small practise in Fulham Broadway. My role is mainly as a general practise surveyor dealing with residential property such as surveys, party walls and lease extensions etc. Both my brother, Mark (1978-86) and sister Claire are having babies this year; one due in May and the other due in September, so I'm going to be an uncle twice over.
Soffe family: Rosanne Pilditch (1979-84) and her husband, Justin, live in West Ilsley, Berks. Rosanne is still working as UK HR Manager for an Executive Search company in London. Simon (1979-87) and his wife, Alex, live in Twickenham. Simon is Head of Communications for Game Group. Holly Wills (1982-89) and her husband John, live in Chipping Sodbury.
Photo: ON's (left to right) – Joby Royle (née Phillips), James Kenyon, Rosanne Pilditch (née Soffe), Anne Blake, Holly Wills, Denis Blake, Simon Soffe, Amy Kenyon, Sian Kenyon, Emily Snagge and Charlotte Waterhouse.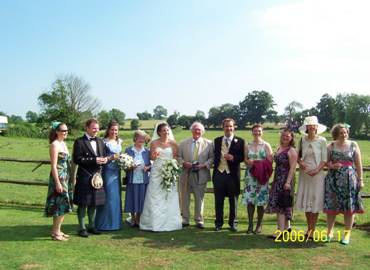 McKeown family: Catriona Sempala-Ntege née McKeown (1979-87) Currently still living in Germany, now in Rheindahlen. Nathan and I have 3 beautiful children, Noah (6), Lydia (4), Joel (2) and baby number four is due this August. Last year we bought a house in France and we will be spending as much time there this year as possible (work, pregnancy and birth allowing!). That's about it for us at the moment. Life is fairly hectic with the little ones and Nathan working long hours, though thankfully not on operations at present. Kieron (1978-84) lives in Salisbury with his wife Karen and their two boys, Asher (10) & Derrie (5). He changed jobs about 6 months ago, and now works as a home based Chartered Surveyor for Connells Survey and Valuation, carrying out mortgage valuations and Home Buyer Reports. Hamish (1978-85) is a teacher at Norman Court.
Fin Hughes (1980-86): I am living in Appleshaw near Andover with wife Caroline and our two children, Humphrey (3 years old) and Nancy (1 year old). I am working for Smiths Gore in Winchester, running County House sales in Hampshire. I would be very happy to help any ONs who need help with house sales or purchases (work email in my entry on website). My brother, Xander (1980-88) lives just around the corner in Collingboure Ducis and his wife Tara is expecting their first child in the summer. Happy memories of Northaw include: burnt sausages over a fire in the Dell; making stilts and then falling off them by the beehive; freezing cold judo in the gym; ghost stories at the end of term in English; Christmas dinner followed by Dambusters in the Library; bit parts in Toad of Toad Hall and Tom Sawyer; cigarette smoke when passing the common room at break; good luck messages on blotting paper before exams; Miss Sylvester's slipper; Mr and Mrs Capes' maths competitions; grudge matches against Farleigh; trying to kick heavy wet leather footballs or rugby balls.
James Pennefather (1982-87) writes; ' My wife gave birth to Richard in September 2007, a brother for Elizabeth who's now 2, so I'm getting used to being a father of two and never having a lie-in. I'm now the Brand Director for Whisky at Diageo which I'm thoroughly enjoying and slowing working my way through the company's vast range of malt whiskies. Home is in South Bucks, near Beaconsfield, which isn't particularly convenient for visiting Scotch Whisky distilleries, but does have a rather fine vegetable garden.'
Badham family: Richard (1983-87) writes, 'My wife (Annette) and I had our first baby, Oliver, in January last year. He definitely has the Badham gene as he is full of mischief and always looking for trouble. I am still working for Rolls-Royce at Bristol and have just started on a new programme having spent the last couple of years leading the design team for the Tornado engines. Harry (1984-90) had his second child, Aveline, in July last year and she is doing very well. He and his wife Vicki have spent the last year (in addition to baby duties) doing some major work on their new house in Camberwell, London. There has been quite a lot of work to do but I think he can now see the light at the end of the tunnel, which is surprising as Eddie (Honorary ON) did all the wiring and electrics! They have two children, Louis and Aveline. Tim (1989-92) is back from driving tanks around Afghanistan and seems to be spending most of his time partying in London (although I'm sure he calls it work). Tommie (Honorary ON) is still living in Lossiemouth where her husband James flies Tornadoes for the RAF. She spends most of her time teaching and riding horses. Eddie is doing an apprenticeship as an electrician - and top of his class. Mum twice in hospital in as many months following serious accidents with horses; Dad still globetrotting looking for bits of rock with his new company.

As for other ONs, Richard writes the following: I caught up with Olly Brooke-Dean (1982-89) who is a godfather to my son Olly, last year when he popped back from Australia to see his new niece (his sister, Hattie, had a baby in July). He is back in Oz now but hoping to return soon. His brother, Henry (1991-97) is working at Harrods, I think in the wine department. Tim Macmillan (1984-90) and wife Susan expecting first child any day now, and are based in Australasia probably returning to the UK in 2008.
Alex Blyth (1983-87) Having attended Allhallows and then York University where I achieved a 2:1 in Politics & Philosophy - does anyone remember the 1987 mock general election we had? I remember standing as the Liberal candidate and getting resoundingly thrashed by the Conservative candidate, James Pennefather! (1982-87) - I spent ten years living in London, before moving to Manchester in 2005, where I now live in the city centre with my wife Claire.

I work as a freelance writer, and am published in many business or trade publications. I've also just been offered my first book deal. "How to Grow Your Business for Entrepreneurs" will be published by Pearson in early 2009. I remember the first story I wrote at Northaw was a rambling 16-page description of a spaceship battle. Mrs Capes commented, as kindly as possible in the circumstances, that it was probably a great deal more fun to write than to read. I hope my first book will receive better reviews!
Anyone who is interested can read more about me on my website: www.alex-blyth.co.uk, so I won't go on about myself any more. I'm in touch with only two other Old Northavians - my brother Ben (1986-90), who is living in Winchester, and Charles Box (1982-87), who lives in London and who I see every few months for a pint or three.
It would be good to hear from anyone who still remembers crowding onto library sofas on Saturday evenings to watch The A-Team, rollerskating in boilersuits, hours and hours spent on Red Carpet for talking after lights out, and those sun-drenched summer afternoons in the woods when we felt like we'd always be young. Happy days!
Lucy Harvey, née Pease (1983-85) Since leaving Northaw I went to Edinburgh where I did a BA and Masters. Now "colour in" for a living (run a graphic design company), work quite a lot in publishing and Fine Art, Edinburgh, London and am hoping NY this year (ever optimistic). We did some work with Canongate Press with Pru Rowlandson (1981-86) - she has since left - who was great fun to work with; I bump into her when she zips up from London at openings. I married a Scotsman, hence I never left Edinburgh and we have a three year old, Ella Madeline Macdonald Harvey. We live in Leith but are thinking of house swapping to South America for 3 months next year before we pack Ella off to school. Really enjoyed Northaw, hated Godolphin. Art School was fun. Don't think there are many Northavians north of the border but may be wrong! It would be good to get in touch with Max Edgar (1980-85) et al.

Firebrace family: Patrick (1983-88) wrote in November to inform us that George Firebrace joined the family as his third, and very much last, son! Charlie (1983-88) and his wife had Jack in September 2007, born in Chicago to join his 2 sisters.
Charles Krasun (1983-92) I have just got engaged - to a lovely girl called Claire. We are planning to get married next year, if anyone wants to rent me a marquee. I am planning to change jobs and leave the military. I spent six months in Iraq last year, but fortunately had a much quieter time than Rupert Lane, who earned an MC during my first week there. If anyone is looking to employ someone who speaks Arabic and has a diploma in Marketing, let me know! I'm hoping to take another MA, this time at Westminster, later this year, Arabic diploma exams dependent. Living in London.

Phillips family: Paul (1984-89) and his wife Sophia are still living in London, with their daughter Zadie who will be 1 in March. Paul continues to work for Deutsche Bank, and Sophia continues her musical studies. Joanna (1986-89) and her husband James Royle have had an eventful year. James got a registrar job after a long wait with the MTAS mess, and now is loving being a General Surgeon in the West Midlands. They moved to Worcester in October, when Jo was 38 weeks pregnant, but very considerately Isabella arrived 2 weeks late, but of her own free will, in November 2007. Jo loves being a full time Mum, and may well take a break from Respiratory Physiotherapy. Joshua is now 2 and a half and a delight to be with.

Gussie Davies (1984-88) is now Gussie Harris (or sometimes even Augusta!). Married Mike in Cardiff on 10 August 2002. Now have two daughters, to date: Mimi born 2003 and Clio born 2006. I am a house wife dabbling in all sorts on the side, including making hand made silver and semi-precious stone jewellery, living in Brentwood in deepest darkest Essex. I am still in touch with Kate Henderson née Gutteridge (1984-89) aka Kat-Gut, who is now married with two small daughters and is living in Earlsfield. My brother Max Davies (1982-88) is married with 2 small daughters. He is a barrister and they live in Cardiff.
Trentham family: Storm (1986-92) writes, "I left working at Fulham Football Club to teach PE (mainly lacrosse) at Godolphin School, Salisbury...absolutely loving it. I also work for a sports charity called Sporting Chance International and am off to Kenya setting up football and netball academies in 1 week! (March '08). I have recently renewed contact with Charlie Gold (1990-92) who is now a professional golfer, trying to convert me from lacrosse! I am still playing lacrosse for Wales and coaching the U21 and U18 Wales Lacrosse Teams. Lachie (1984-92) got married in June 2007 and is working in the City. Dougal (1984-91) is getting married in May and has been made an associate at Woolley & Wallis."

Edwina Berry née Wright (1987-90) I am currently on maternity leave having recently had baby no.2 (Florence, little sister for Mathilda). When not being full time mum I work in the City for an Australian investment bank as a compliance manager and live in Hemel Hempstead. My sister Abigail (1988-91) is living and working in Singapore. My brother Timothy (1988-91) is in the final year of his psychology degree at Leeds University.

Brady family: Katherine Wicksteed née Brady (1988-93) got married in 2003 to David. Our first baby is due in March 2008. I also qualified as a Dentist in 2003 and have been living and working in London since. Keith (1987-91) also got married in 2003 to Maryam (a busy year for the Brady family!). They both live and work in Porstmouth. He has a Masters degree in electrical engineering and works for a computer firm called Xyratex and he frequently gets to travel the world! Graham (1991-94) finished his degree from Edinburgh University in Summer 2006 and finished Sandhurst in 2007. He is now a fully signed up member of the Scot's Guards.
Alex Bray (1988-89) I graduated from Durham in 2000, in History. I've been working for Lloyds TSB since 2000. I'm currently based in London, working for the Lloyds TSB Internet Bank. I also run the Phoenix Garden, a charity which administers an independent community garden in Soho.

Singleton family: Nic (1989-91) married Cloudia Rose Swann in August 2007 in her home village, Burford, Oxfordshire at St John the Baptist Church (picture below). They are living in Putney. James (1988-90) is marrying Tahera at the end of April 2008, in Richmond Park. Nic and James live near each other in Putney, London. They will be racing again in the annual Original Mountain Marathon event, satisfying a passion for fresh air, engrained by Miss Silvester's policy of keeping dorm windows open throughout the winter. James is working in the City, in interest rate derivatives.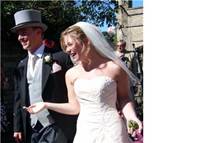 James MacMillan (1989-94) After leaving school, I took a GAP year, which involved travelling to Ghana with Raleigh International which is where I met my fiancée, Jo Best. I went to Exeter in 2002 and graduated from there with a 2:1 in French and Spanish, also spent a year abroad in France, and worked in Paris for 9 months as part of my year abroad. Jo and I were engaged last September and are getting married this June. I took Jo up in a hot air balloon and proposed after we landed! I am currently doing GDL (Law conversion) part time in the evenings whilst working for a law firm in London. We both go to Barkham Church, near Wokingham, after becoming Christians at Exeter & are looking forward to our wedding there this summer.

Eagan family: Natasha (1986-89) has returned from Paris (where she lived for 18 months) and is now working for Reuters in HR and living in South London. James (1987-93) is also working in London as a management accountant and has just bought a house with his girlfriend in North London.
Martin Verdon-Roe (1988-93) I graduated from University of Newcastle-upon-Tyne with a BSc 2:1 in Marine Biology. I am now working as a Sales Director for Trip Advisor. Thanks to Facebook, I have recently renewed contact with Henry Gould (1989-93), Charlie Campbell (1989-93), James Eagan (1987-93) and Harry Owen (1987-93) - who also works in media.
Victoria Higgs née Hicks (1989-94) Using the tool of Facebook, Boris Pineles (1991-94) recently organised a get together in London for the class of '93. Storm Trentham (1986-92) was forced to drop out at the last minute due to a broken leg caused by the tackle of a Scottish lax player, but Mawgan Gyles (1985-94), Toby Neilson (1988-94), Edward Selley (1989-94), and Victoria Higgs met Boris near Waterloo on a Thursday evening. A very funny evening was had by all and it was fantastic to catch up on 13 odd years of time apart.
Gutteridge family: their father writes: Gemma (1993-98) is now 23; she left NC and went to Clayesmore and then Peter Symonds College, Winchester, leaving with 3 A Levels. After a one year Art Foundation course at Bournemouth Institute of Art and Design she decided to go skiing for a year. This took her to Wanaka, New Zealand, with the Rookie Academy where she gained ski instructors qualification from the NZ Ski instructors Association. After a brief tour of duty as a Learning Support Assistant at Appleford School, working with her father, she completed a winter teaching children to ski at Keystone, Colorado, USA. Having initially decided to read for an art degree with photography at Birmingham School of Art and Design Gemma changed her mind and moved to the University of Central Lancashire to read for a degree in sports therapy. Richard (1994-2000) is 21 and is in his second year reading for a degree in Adventure Leisure Management with Business Studies at Gloucestershire University in Cheltenham. Richard left NC and followed his sister to Clayesmore, leaving with 3 A Levels and as Head of Devine House. After his father's chance meeting with the Bursar of Port Regis Prep School, Richard spent a very happy year there as a gap student working in the art department in the mornings and then on the games field and boarding houses in the afternoons and evenings. Richard changed his degree from Sports Science, as he wants to work in the skiing world with his sister.
Sarah McComas (1994-99) I have recently returned from a second trip to Peru where I was working for a charity aiding community development. During my time out there I helped to build a community centre and to dig trenches and lay pipes to bring fresh water into a village. Since returning, I've gone back to working for a hotel whilst considering what to do next! My brother James (1992-97) graduated from Guildford University in 2007 with a degree in Tourism and Hospitality Management. He is now working as a Bar Manager for a hotel in Queenstown, New Zealand.

Catharine Melvin (1995-97) I graduated from Downing College, Cambridge last year with a degree in Oriental Studies (Egyptology), and then took part in Pennsylvania State University dig in Egypt, which was really good fun, though hard work. After that, I worked for a few months in a chocolate factory in Germany & am now travelling around Australia, over-nighting in Alice Springs (when this was written).
Butterfield family: Charlotte (1997-2002) is currently on a gap year, earning loads training sales staff how to use mobile phones. She's off travelling Australasia, Far East and China before coming back to study Psychology and Sociology, having gained AAB at A level. Matt (1998-2003) is taking A Levels this year, forecast for AAA. Harriet (2000-05) taking GCSEs and is forecast straight As.

Robertson family: their mum reported, in April 2007: Danielle (1994-2000) stayed at the Atherley for 6th Form on an Art Scholarship, went to St Martins to do an Art Foundation course but did not enjoy the London scene at all; she is now at Loughborough doing a Fine Arts degree and much happier being at a campus university. Oliver (1997-2002) left KES with very good GCSE's (all A / A*), is now at Peter Symonds doing Economics and Maths amongst others. He got 3 x A's at AS level and was applying to Uni to do Economics. Apparently he is still only working when he wants to and drives her mad but she says that he has coped with the freedom of Peter Symonds far better than she expected as he's actually focused in the areas that matter.
Olly Bishop (2000-04) Not much has happened for me this year. I have being playing south west rugby and played a match for England 'A' last month. There is a pic of me on www.gpaimages.com I have been on holiday a lot recently to Menorca, France, Switzerland and Canada. Other than that I've been working hard getting ready for GCSE's this summer which I'm not looking forward to!
Ben Mackie (1998-2004) Thought you might like to know that the following ON's recently completed the Devizes to Westminster International Canoe Race (http://www.dwrace.org.uk/ for more info on the actual event): from Dauntsey's School: Benjamin Mackie and Phoebe Longley-Cook (2001-04) and from Marlborough College: George Bentall (1995-2004) and Hamish Legge (1998-2004). There may have been others but I was not aware of any taking part. It should be noted that the weather was the worst experienced in at least 25 years and that everybody did amazingly just to complete the event.
Bertie Evans (1997-2007) This is my normal daily routine in Singapore: first of all, we have to get up very early because school starts early, then we have a quick breakfast. We can take a packed lunch or buy our lunch at school. It takes about ten minutes to get there and we have to go to tutors like at Norman Court on arrival. We have 2 boring one hour lessons until break, when I normally buy a snack. Then, another 2 boring one hour lessons, until lunch. Then, yet another boring one hour lesson, till the end of school. School finishes at 2.45 which is quite early so we normally do a Club after school. I do tennis, swimming, rugby and rock climbing and on Fridays I normally go out with my friends (who are not as good as my Norman Court friends!). We normally go lounging or chilling out or seeing a movie on Orchard. On Saturday and Sunday, I'm free.
-----------------------------------------------------------------------------------------
NEWS AND NOTES OF THIS AND THAT FOR OLD NORTHAVIANS
Our very dear All,
As I start this letter I am horrified to have read in today's paper (8th January 2008) that Fred Picton-Turbervill (1969-74) has been murdered in South Africa. I remember him, and his step-brother Alexander (Beetle) Clay (1972-78), so well; they were there when Anne and I first arrived at Northaw and they and their families, called generically The South Wales Contingent for travel purposes, were so very kind to us. What a vile world we seem to live in these days. Every affectionate sympathy to Fred's widow, Ursula, and their children.
Where do I start? At the furthest back in the filing system after the material for last year's letter ran out and then on to the news, changes of address and name and suchlike for the past 12 months. No rhyme or reason; just my usual higgledy-piggledy Bumbling!
Richard Badham (1983-87) On 30th January 2007, we had an email from Richard to say that his wife Annette had presented him with a son, to be known as Olly. From the pix that came with the letter it is clear that the little chap takes after his mother in looks. Such a good thing, as in so many cases! Congratulations!
Richard Greening (1981-86) The email from Richard was HUGE and was a delicious summary of all his memories of Northaw and Shiplake and of some of his contemporaries. He even remembered the book we gave him as a leaving present, inscribed with what he called my "infamous black hand-writing with that Sheaffer pen". My writing was/is NOT infamous; it may be notorious and the pen is a Parker anyway, so there! As the email from "little Ricky" was several pages long I cannot possibly reproduce it all here, other than:- "There are so many memories I have of my days at Northaw – red & green marks, green stars and red stripes (I soon abolished the latter! DRB), the Dell, the Scavenger Board, bonfire night…..midnight strolls, the girls changing room and dormitories….being caught by Miss Silvester when she unpacked my tuckbox and found my stash of sweets…" and so on! Great stuff, Richard, and memories shared with you by both Anne and me with real affection.
Heminsley family: Alexandra (1984-88) has published her first novel, "Ex and the City" in 2007; it is a Pan paperback and I rushed out and bought a copy. I shall get it inscribed by Ali as soon as I can! She is doing very well as a journalist, authoress and broadcaster. I gather that she and brother William (1988-89) are taking part in the London Marathon this year, according to the Salisbury Journal! Charlotte (1987-90) - as from 8th September 2007, Charlotte became Mrs Oliver Lambert at a lovely wedding in Italy at Montefalco. Parents John and Kate have now come to live at Broad Chalke, just up the valley from us here and that is marvellous.
Amy Kenyon (1984-89) As from 4th August 2007, Amy became Mrs Neil Rafferty at their wedding at Easter Culmore, Kippen. Anne and I were invited to both Heminsley and Kenyon weddings but distances etc defeated us. It was WONDERFUL to be asked, never the less.
Peter Worlledge (1975-79) Peter sent us an email (what a blessing this medium is!) packed with his career update. After Northaw, Haileybury, Bristol University, marriage to Caroline, births of Pippa, Tom and Lucie, move of house to Edinburgh and thence to Yorkshire, where he was until recently Chief Executive of a Hazardous Waste treatment company called Augean plc. Those of you who paid attention to Latin legends and the labours of Hercules will understand the Augean bit!
Trentham family: Dougal (1984-91) is an associate partner with Woolley & Wallis, estate and land agents, and lives in Salisbury; he has been with them for 4 years and plays lots of rugby and cricket for local teams. Lachlan (1984-92) is in banking and lives in London. He worked for a year in Hong Kong and got married in June (which means that he is now a married man of some 9 months' seniority!). Storm (1986-92) studied Sports Management at Cardiff and was working as a sports coach there. She plays lacrosse at, I think, national level. Storm is now a member of the teaching staff of the Godolphin School, here in Salisbury.
Askar family As from 1st August 2007, the Askars have moved from London to Bournemouth but of course the law does not allow me to pass on their new address – Data Protection Act, I imagine.
McKeowns, Tamara Thom (née Pearson) (1979-81), Philip Ayliffe-Jones (1979-84), Askars (see above) and Halseys. We heard from these good people but have no news to pass on, sorry!
Rob Dixon (1977-81) Rob lives in Hamble and works for P&O; as well as other things he is the speechwriter for the Managing Director! (Why not make Rob the MD and save a salary?). Rob was sent over to Hamburg to sort out the company's German office and arrived in that city in the Queen Mary 2 which somewhat impressed his family!
Lucinda Ashby (1986-90) Lucy is now a Deputy Head, but I don't know of where!
Bush family: Duncan (1982-87) and his wife have decided to re-build and extend their house in Ipswich; his sister Alison (1984-87) with her other half, Anthony live in (on?) the Isle of Dogs and work in London. (In my ignorance, I thought the Isle of Dogs was in London!).
Craig family: Matthew (1983-88) and Rebecca (Matt and Becks) have a baby daughter, Chloe Natasha. Duncan (1983-89) completed 6 marathons in 7 days across the Sahara Desert raising £25,000 for charity. Duncan is Deputy Travel Editor of the Daily Express and is, I would suppose, an expert on thirst and sore feet! What an incredible thing to have achieved! Well done indeed!
Fuller family: Hugo (1978-83) and his wife have a second daughter. Rollo (1976-81) and his wife will have had their number two at the end of April 2007.
Firebrace family: What a source of news Mary is! Charles (1983-88) is still in Chicago and has 2 girls and 1 boy; Patrick (1983-88) is in Bristol with 3 boys; James (1982-86) and his long-term girlfriend have bought a flat near The Oval (this is a major cricket ground in the shadows of the Kennington gas-holders which were made famous by John Arlott when the movement of the gas-holders exceeded that on the Test wicket in front of him!). Tom Leslie (1983-88) has just had his first son. Edward Lee (1984-88) is married. The parents Beloe have had their Ruby Wedding and all the Beloe boys are married and only Tom (1982-87) has yet to produce offspring. (I told you Mary Firebrace was a fount of news!).
Grant family: Mother/School Doctor writes, "The children - Nick (1985-88), Tom (1985-93) and Jo (1985-89) are all thriving, if failing on the marriage and patter of tiny feet fronts." But they are all well, treely ruly!
Harward family: Toby (1977-79) may soon be leaving New York and going to Beirut while Barnaby (1978-79) is buying a flat in the middle of Warsaw.
Andrew Hobbs (1986-91) Andrew has expanded his production company to do PR and Marketing. He has several other actors working for him and he has a pleasantly encouraging diary of bookings for his touring company this coming summer.
Harris family: Mark (1981-83) is still surveying in Bristol (Bristol seems crammed with ONs; have a party!) while Tim (1981-84) tells his parents what to do at their nursery near Newbury.
Tamara Roberts (née Morley) (1980-83) Husband Garth's business is going well and the children are growing too quickly. Mum is busy with explanations and insistences on pleases and thank-yous. (Good girl!). They have a black Shetland pony called Marmite who gives everyone lots to do and learn.
Joby Royle (née Phillips) (1986-89) They now have two children, Joshua and Isabella and have set up home in Worcester. Her husband, James, was caught up in the crazy government cock-up about doctors and their jobs but has at last got a post as one of only 18 Registrar General Surgeons in the West Midlands. He works in Burton-on-Trent and thence could have to go to Hereford, Stoke-on-Trent or Coventry. Hence the settlement in Worcester and the purchase of a Mini-Cooper D in which to buzz round the patch, as it were! Paul Phillips (1984-89) still works for Deutsche Bank – or is that the wrong way round? – and has his own Hedge Fund offices too. (No, I don't know what that means! You are not alone).
Quarrelle family: Olivia (1988-92) and Chris are still living in Queenstown, New Zealand, and she was up this side of the globe last year for 7 months, some of the time in Europe! Robin (1989-94) lives all the time in Verbier, Switzerland, building in the summer and working for a special ski company in the winter. Mum tells me that he is really happy!
Philip Rawnson (1983-89) Philip and his wife had a daughter, Isobel, in November 2007 – Northavian grandchildren numbers continue to grow!
Selway family: James (1985-89) has become engaged to Nicky but, apparently, in the Sultanate of Oman, Christian weddings and their dates are subject to the phase of the moon! Tom (1983-88) has been visiting Oman and is interested in investments of a financial variety. Guy (1987-92) is now a Captain in the army (a rank I held in the Army Emergency Reserve back in 1962!!) and trains recruits at Catterick.
Simon Williams (1978-84) Simon is an anaesthetist here in Salisbury and he and his wife now have Alfred who was born in June 2007. Congratulations from the whole Northavian Family.
Waterhouse family: Charlotte (1985-90) (who, unbelievably, has had her 30th birthday) and Paul climbed many of the peaks of the UK including Ben Nevis (is Scotland still in the UK?) and have a German Pointer puppy. In the absence of any further generation this lucky animal is called the grand-dog! Tessa (1987-92) married Owain John in April 2007 and they now live in the Milton Keynes postcode area. Emily Snagge (1986-90) and Holly Wills went walking in the lower Arun Valley with the Waterhouses.
Blake family: David (1973-79) lives near Shaftesbury and organised the Cranborne Chase Woodfair in October 2007 which this was a brilliant success, in glorious weather. He has visited the South Lwangwa Valley National Park and has also been in Kenya recently where he stayed for a while with his older brother Robert who is, guess what, a prep school Headmaster in Nairobi. At the time of writing, Kenya is very much in the news for the wrong reasons but Robert tells us that he and his family are all right. Anne and Denis celebrated their Golden Wedding on the 21st December 2007 and had a great time with family and friends.
Looking back over our fifty years of marriage – in fact we first met in 1937! – Anne and I realise how enormously proud we are not only of our own four children and five grandchildren but also of the huge and rapidly increasing extended family of children after whom we looked both at The Pilgrims' School in Winchester from 1964 to 1973 and at Northaw from 1973 to 1989. Looking at that second set of dates makes me realise that I am in fact the second longest-serving Headmaster in Northaw's history: only Cecil Winter lasted longer. I am not sure whether to be proud or to apologise!
If anyone can find the London Underground station name plate for Blake Hall, please could they grab it and get it up on the building at Northaw? It was the station beyond Epping and before Ongar on the Central Line; the line now ends at Epping. I think it would be rather fun and would appeal hugely to my sense of humour!
God bless you all
Denis and Anne
-----------------------------------------------------------------------------------------
Billy Howard (Headmaster: 1961 – 1973)
My wife Heather and I were in Moscow last 3rd June (2007), at the start of a holiday which should have taken us round that city, then on by boat via the Volga to St Petersburg. Half an hour after landing, I was seized with shivering, rigors and vomiting, while waiting for the bus to our boat, and early next morning went by ambulance to the American Clinic, where the Professor diagnosed septicaemia, lodged principally in my artificial left knee. He put me on antibiotics, which saved my life. I had a brief glimpse of the Russian medical facilities when the Americans thought I was having a heart attack in the middle of the night and packed me off by ambulance to the cardiac unit on the other side of Moscow, where top Russians go to die. I was mightily relieved when Heather, forced her way in next day, accompanied by the British Embassy doctor and Vice-Consul, who returned me to the care of the Americans.
A good move, that. Very pretty nurses, and the Professor not only treated my infection, but also insisted on being my medical escort in person, and accompanied me to Heathrow, then by ambulance to the Southampton General Hospital, where he took me straight up to the Orthopaedic Ward.
I was not taking in much of my surroundings by now, but I got to know it pretty well in the next eleven weeks, as the medics first struggled to keep me alive, then removed my tin knee and gradually restored me to something like life. The hospital is the second largest in Europe, and suffers from the usual drawbacks of size as well as benefitting from the advantages of the highest technological equipment and specialists. The chief drawback was the company of other patients, many of whom were even older and more gaga than myself and given to calling out all night long - not conducive to sleep. Other inmates (temporary) were a few slightly damaged burglars, who came in for repairs, accompanied by, and chained to, policemen. At least they made no noise. One gets used to anything, and I had the help of a radio with headphones and 'Classic FM' through the night. Also many kind letters from friends.
I was able to escape eventually to home nursing, with a hospital bed erected in our drawing-room, carers coming in daily and nurses from time to time. This was a great improvement on NHS wards, though a considerable strain on Heather, who carried the main burden of caring for me.
She found a wonderful team of surgeons in Oxford, who eventually (in January) put in a new knee joint, a complicated and difficult operation after so much time. After many weeks in a wheelchair or on a Zimmer frame, I am now a bit more mobile on crutches, working hard on physiotherapy and exercises, and looking forward to regaining something like full mobility quite soon now. It has been a long and weary business, almost a full year since it all began, quite a slice out of the remaining life of a 75-year-old. But I am lucky to be alive, and to have had the support of my wife and family, many old boys and other friends, and, of course, extremely skilled medical treatment.
Kevin Foyle (Headmaster: 1995– 2007)
I thought I should up date you on the news of the Foyle clan. The move to become the founding Principal of the British International School, Nanxiang campus has been a big success. The school has been established and is growing rapidly ahead of predicted targets. It has been a very interesting process and very rewarding.
Shanghai is fascinating and has much to appeal to an historian and to somebody who is passionate about architecture. Gill is very happy, with some work and also some time to explore the city and socialise. We have met so many interesting people from all over the world.
The boys continue to thrive. Tom (1995-2005) is at Dauntsey's, where he sits his GCSEs this summer and Harry still at NC. They continue to enjoy a good deal of sporting success. Tom played 1st XI Soccer and Cricket at school, where he scored his first 1st XI 100. He received his school colours for cricket last year and his soccer and hockey colours this last term. He continues to play county age group cricket and made his 1st XI debut at St Cross CC taking 5 wickets on debut.
Harry has enjoyed similar success, 1st XI Soccer and 1st XV Rugby in Year 7 as well as selection for the first time for the county cricket squad. He has had a very good winter of coaching and is in the summer squad and very much looking forward to it.
All in all a busy 12 months or so: our wedding in June, an emotional send off from school in July, new job and move to China in August, but so far so good.
It is great to see the school continue to thrive. I have been back a couple of times in the last 7 months and everybody seems very happy and the results remain strong.
It would be lovely to welcome ONA visitors to Shanghai; there are a number lined up for next year.
With best wishes,
Kevin Foyle
-----------------------------------------------------------------------------------------
by Paul Kleiman with Shirley Kleiman
In October 2007 my mother, Shirley Kleiman, and I were reminiscing about the summer camps that she and my father, and her parents (my grandparents) used to run during the month of August between 1961 and 1966. In the summer of 1962 we came to Northaw. I was eleven years old, and have very fond and clear memories of that month in the country. I remember the impressive red-brick front of the building built around a forecourt; the elegant white classical architecture of the side of the building that fronted onto a balustraded terrace with steps leading down to the grounds. I remember the swimming pool, and that the names of the dormitories were named after famous battles. And I remember exploring the extensive grounds of the school – which was a magical, fantastic adventure for a young boy far more at home in the urban landscape of London.
My grandfather, Solomon Finn, had grown up in the East End of London amongst what was then a large and largely poor Jewish community. He and his brothers had become well-known teachers in the area. After WW2 he became a much loved and respected teacher at the Jewish Free School in Camden Town.
Inspired by the North American camp tradition where kids would go away for a month or more to an organised camp in the countryside, a small number of summer camps began to be organised in England. The idea was to provide children from the major cities such as London, Birmingham, Manchester etc a decent break away from home (and parents!) organised around social, educational and sports activities.
| | |
| --- | --- |
| | |
| Shirley Kleiman (left) in front of Northaw, August 1962 | Solomon Finn, with one of his grandchildren on the terrace at Northaw |
The first 'Finnesse' summer camp, in 1961, took place in a school near Horsham in Sussex. In 1962 the location was Northaw. There were about 80 Jewish children and teenagers aged between 7 and 16. They were divided into Juniors, Intermediates, and Seniors. There was a group of supervisors, and the whole lot was organised by my parents and grandparents.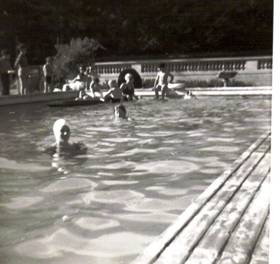 The Swimming Pool (not quite the same as today! Ed)
Here is an extract from my mother's diary. The entries for August 1962 were relatively sparse as most of her time and energy was taken up with organising everyone and everything!
"Aug 21 1962
I suggest a 'Mystery Ramble' to Dean Hill for seniors this afternoon. They were blindfolded then driven around and around – then let out and they had to find their way back. Great success. We organised athletics for the Juniors and Inters...also a great success. In the evening the Seniors went to the cinema and the others had a camp fire. Got lost in the grounds on the way back...but not seriously".
I also asked my mother to write something down about Northaw. This is what she wrote:
"When I went with my parents (Mr and Mrs Finn) to see the school we were struck by the impressive building and lovely grounds and the beautiful countryside around. When I went a second time more practical matters took over such as organizing separate bedrooms for boys and girls - also separate bathrooms of which there were not too many! I remember the grand staircase with the deer head on the walls which frightened our 4 year-old Michael. There was a big room we used as a hall - was it the school hall? - which had big windows along one side with a wonderful view, and I always recall the uplifting feeling that gave to the Saturday morning Sabbath Service.
After the first two-week session we had the 'last night concert.' In the hall. The second 'last night concert', at the end of August, was outside with a stage rigged up on the grass and the audience on the steps of the terrace.

On last nights the youngsters were always up to pranks and trying to outwit the supervisors, so I remember one of the supervisors slept outside Rhine dormitory and another outside Matapan.

The weather was not great that August - 1962 - but there were regular outings ………to Cheddar Gorge (in the rain)……….to Southsea (in the rain)…………and to Stonehenge (also in the rain)!
One famously successful 'activity' was the Mystery Ramble. The senior youngsters were blindfolded, driven around, let out, and had to find their way back to the school. Then the 'inters' and the 'juniors' wanted something similar and we had to think of something. My father went mad…and you certainly wouldn't get away with doing such a thing today!
The grounds were perfect for organised "Wide Games" after the sun went down. General mayhem as the various groups roamed around the grounds attempting to grab the flags of other groups and then trying to reach the house and not be caught. Again, my father not pleased!
However, we all enjoyed walking in the woods - there was a small hut there which we grown-ups called The Lady Chatterley Place! We also had groups going horse riding at Whiteparish. Then I used to have to go to Dean Station frequently to collect parcels or people or something.

At the end, when everyone else had left and we were packing up, I took one last walk through the grounds – past the pool - looking back to the house."
My mother's final diary entry reads:
"Aug 30 Coach left. Thank goodness!! Settled our account at horse riding. Took Dad for a drive in the evening up Dean Hill. I had left the lights on in two dormitories so we could see the house from up there."
My mother ends her reminiscence: "Northaw has always been my favourite summer school".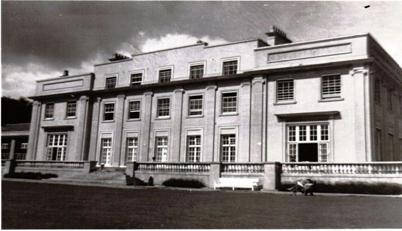 Editor's note: in 1962, the dormitories were still named after battles or campaigns of the Second World War (Cassino, Battle of Britain, Alamein, Salerno, Arnheim, Normandy, Rhine, Kohima, Matapan) largely due to the School's connection with Field Marshal Montgomery.
The swimming pool referred to should not be confused with the current pool but was a much smaller one next to the tennis court on the east side of the terrace. This was subsequently turned into a "natural" habitat for lilies, goldfish and anything else that chose to live there and was finally filled in during the late 1990s, as yet another victim of "Elf and Safety."
-----------------------------------------------------------------------------------------
Data Protection: This Old Northavian Newsletter may contain personal data. It is posted on the website of the Old Northavian Association for the benefit of Members. If you are in any doubt as to membership, you should contact the Chairman of the ONA anthony@oldnorthavianassociation.co.uk
Disclaimer: this Newsletter may contain personal views, which are not the views of the Old Northavian Association unless specifically stated.